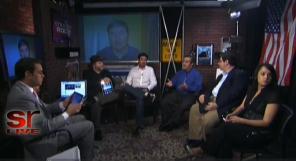 Here at Mediaite we don't generally write about personal gossip. But this tip we received last week, and have worked to confirm, extends to the professional, and involves a married Fox & Friends host, a one-time tech guest and a pregnancy – that may all be tied together.
Here's the tip, and here's the info we have:
Clayton Morris, co-host of Fox and Friends, has an extramarital affair with CNET host, Natali Del Conte…rumors circulating that he is the father of pregnant Del Conte. Wife of Clayton has filed for divorce.
Clayton Morris is Fox & Friends weekend co-host, while CNET host Natali Del Conte guest on the show and Fox News in general (as well as a contributor to CBS News). In fact, earlier this month she was part of an iPad roundtable hosted by Morris (who has an interest in tech, as seen on his blog).
An FNC spokesperson tells Mediaite, "We don't comment on the personal lives of talent." We reached out to Del Conte for comment as well.
But we've heard from several sources that Del Conte is in fact pregnant, and the affair has been a topic of discussed within Fox News. Also, the Carpe Diem blog, which chronicles cable news morning shows, has some backstory – beginning in November 2009 when Morris appeared to stop wearing his wedding ring. In January the blog expanded on the many references to Morris' marriage, including his wife, Sara Batterson's Facebook page which now says, "I am taking a new path in my life."
Still, Del Conte, who was a one-time member of Playboy's "hottest bloggers," has not been officially tied to Morris on Carpe Diem or anywhere else.
—–
» Follow Steve Krakauer on Twitter
Have a tip we should know? tips@mediaite.com