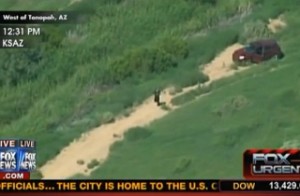 You may recall that last September, Fox News aired a car chase that culminated in JoDon Romero getting out of his car and shooting himself in the head. His suicide was aired on Fox before they could cut to commercial, and Shepard Smith apologized on the air for showing it. Now, Romero's three young children (one of them only nine years old) have filed suit against Fox News, claiming the cable channel's airing of their father's suicide has caused them serious emotional distress.
RELATED: GRAPHIC: Carjacker Shoots Self On Live Television At End Of High-Speed Chase
In the lawsuit, ABC News reports, two of the children claim that watching the video has caused them "sleep disturbance and obtrusive thoughts."
Lawyers for the boys said that they had been evaluated by a psychologist who found that they displayed symptoms comparable to post-traumatic stress disorder that "included flashbacks, repeated thoughts and feelings associated with viewing the video of their father shooting himself in the head, re-experiencing trauma, sleep disturbance, and intrusive thoughts," according to their lawsuit.

"This psychological trauma is substantial and long-term. It will, upon information and belief, require long-term psychiatric and/or psychological treatment," their lawyers Joel Robbins and Anne Findling argue.
The children allegedly heard rumors about an unidentified man who killed himself on the news, and when they watched the video and "realized in horror that they were watching their father."
Following the incident, Fox News internally ran a delay drill to make sure a similar incident would not happen again.
Fox News said they cannot comment on pending litigation.
Watch ABC's report on the lawsuit below:
—–
Follow Josh Feldman on Twitter: @feldmaniac
Have a tip we should know? tips@mediaite.com
Josh Feldman - Senior Editor