WATCH: Fox Broadcasts the Most American, Patriotic, and Fox-ish Story Imaginable on July 4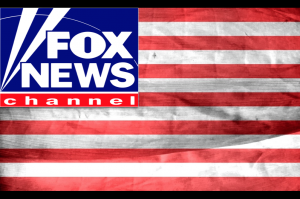 On this fourth of July, we all take the opportunity to recognize the heroism and spirit that make this country great. We remember that our forefathers fought bravely for the creation of a new land, free from persecution and independent in its ideals.
Of course, some of us celebrate it a bit more aggressively than others.
In the world of cable news, there is one undisputed top dog that embraces American patriotism with an unyielding squeeze so tight that the network's knuckles are as white as the stars on our flag: Fox News. Enter this unbelievable chyron of patriotic perfection that the minds at 1211 Avenue of the Americas (that address is hardly a coincidence, no?) came up with for a story that aired earlier today: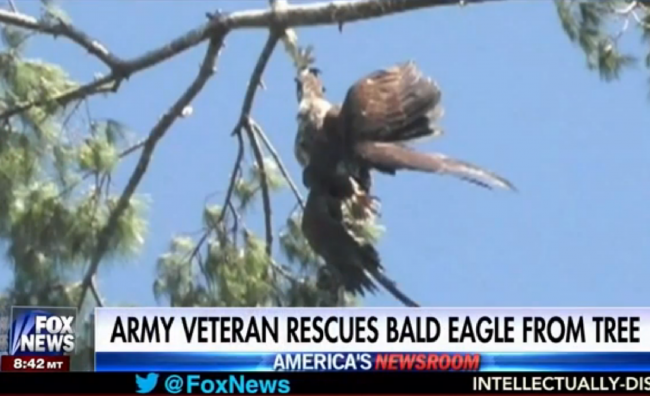 The story in question was about Jason Galvin, an army veteran who served two tours in Afghanistan, who saw a bald eagle — the US National Emblem — stuck in a tree. Galvin sought local help from law enforcement, who denied his requests on account of liability.
"That's when he decided to take matters into his own hands," said Fox News's Gregg Jarrett.
With all the prowess and greatness that James Madison's second amendment in the Bill Of Rights guarantees, the army veteran shot at the tree branch with a .22 long rifle, firing off 150 shots until the eagle was free.
Now if this all seems like a heaping of 'Murican spirit so big that it puts Apollo Creed entering the ring to shame, it gets better: after Galvin's heroics, the eagle was named Freedom.
Jason Galvin, we foremost thank you for your service to this country, and thank you again for providing Fox News the perfect story on this day of Independence.
—
J.D. Durkin (@jiveDurkey) is an editorial producer and columnist at Mediaite.
[image via screengrab]
This is an opinion piece. The views expressed in this article are those of just the author.