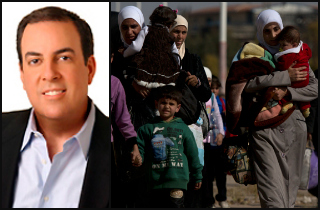 Fox News Executive VP of News Michael Clemente took to the pages of FoxNews.com Monday morning to pen a rare op-ed detailing his recent experience in war-torn Syria.
"Recently I spent five days in Syria, arranging and overseeing an interview with Bashar Assad for Fox News Channel," he began. "There was a good deal more to the trip, however, than what ended up on television, particularly what we saw and heard on the road to Damascus."
Clemente recalled the eerie details of his travels, including how "at the hotels, which are largely vacant, the staff is careful to put you in rooms nowhere near the front door."
"You never know when the next truck bomb is being delivered," he explained.
He also explained how the Fox News interview with Assad "took place at a palace with lots of security and special cars to whisk us in and out of trouble," but when he traveled around the rest of Syria, he saw some stark images of the civil strife.
"As we crossed the border into Syria from Lebanon, a Syrian soldier warned us, what to look out for," he recounted. "'My brother was kidnapped a few weeks ago' he said. 'He's a cab driver. They asked for ransom, we collected the money and turned it over, and they brought my brother back in a bag, with his head cut off.'"
"One cab driver told us that the vehicle of choice is a mini-van," Clemente described. "Because it can fit a lot of passengers and luggage, or, when necessary, the seats slide out and you can slide in and stack up lot of body bags. 'You can use the roof, too.' Minivan or hearse, depending on the day."
The horror stories didn't stop there. The Fox EVP recalled other moments, including one that "sticks in [his] mind": "A mother of four, holding up her new baby for my cell phone camera. 'Take a picture of my baby, my baby' she begged. 'Show them we are here.'"
"The Assad interview made the headlines," Clemente concluded. "What's harder to forget are the nearly invisible women and men and children, trying desperately to live in a war zone."
Read the full op-ed here.
[Images via Fox/AP]
— —
>> Follow Andrew Kirell (@AndrewKirell) on Twitter
Have a tip we should know? [email protected]