Fox News Keeping Karl Rove And Dick Morris Off Air, According To Report
Fox Has Been Keeping Karl Rove Off The Air Post-Election, According To Report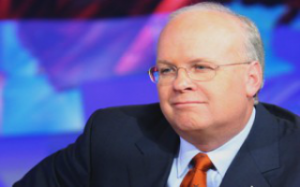 If you've noticed less and less Karl Rove in the past few weeks on Fox News, there's a reason why. According to a new report from New York Magazine, Rove and fellow Fox pundit Dick Morris have been appearing less frequently on Fox News post-election after programming chief Bill Shine sent out a new order to producers that they must get permission before booking either Rove or Morris.
RELATED: GOP Consultant Accuses Karl Rove Of Lying About Claim He Made No Money At SuperPAC
Rove and Morris were very bullish about a Mitt Romney victory in the days leading up to the election. Right as President Obama was about to be confirmed as the victory, Rove had what amounted to an on-air freakout over Ohio being called for the president. Meanwhile, Morris, who had been one of the loudest pundits speaking out against "skewed" polls, issued a mea culpa of sorts the night after the election.
Not much has been seen of either pundit in the past month. What explains this change in guest appearances?
According to multiple Fox sources, Ailes has issued a new directive to his staff: He wants the faces associated with the election off the air — for now. For Karl Rove and Dick Morris — a pair of pundits perhaps most closely aligned with Fox's anti-Obama campaign — Ailes's orders mean new rules. Ailes's deputy, Fox News programming chief Bill Shine, has sent out orders mandating that producers must get permission before booking Rove or Morris…

Inside Fox News, Morris's Romney boosterism and reality-denying predictions became a punch line. At a rehearsal on the Saturday before the election, according to a source, anchor Megyn Kelly chuckled when she relayed to colleagues what someone had told her: "I really like Dick Morris. He's always wrong but he makes me feel good."
One Fox spokesperson confirmed the rules to NY Magazine, and said the message being pushed by top Fox brass is "the election's over."
A few Fox News sources say that Roger Ailes was angry at Rove for his on-air election night fight because while Ailes was the one who decided to send Kelly down a series of hallways to confront the Fox News decision desk, it was a bit of a public relations hit for the network. However, a spokesperson for Ailes denies there is any rift between the two men.
You can read the full NY Mag report here.
—–
Follow Josh Feldman on Twitter: @feldmaniac
Have a tip we should know? tips@mediaite.com
Josh Feldman - Senior Editor