Fox News: Union-Leader's Gingrich Endorsement Is 'Major Snub' Of Resident Romney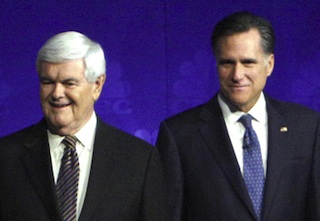 How is your Monday going so far? Probably a little sluggish given the post-holiday weekend bloat that comes with late November, right? Well take heart knowing that however tough your Monday currently looks, it's likely going much better than Mitt Romney's day. Not only is he dealing with yesterday's Union Leader endorsement of Newt Gingrich, what's worse for the New Hampshire resident is Fox News' proper portrayal of this as a "major snub."
Joseph McQuaid, the publisher of New Hampshire Union Leader, yesterday endorsed Newt Gingrich, ignoring New Hampshire's very own GOP candidate, who happens to have a house in Wolfeboro. The endorsement seemed to call out Romney's tendency to change positions, a theme echoed by a DNC produced attack ad, also put out today.
McQuaid wrote in his endorsement of Gingrich:
Truth be known, many in the liberal media are belittling the Republican candidates because they don't want any of them to be taken as a serious challenger to their man, Obama.

Readers of the Union Leader and Sunday News know that we don't back candidates based on popularity polls or big-shot backers. We look for conservatives of courage and conviction who are independent-minded, grounded in their core beliefs about this nation and its people, and best equipped for the job.

We don't have to agree with them on every issue. We would rather back someone with whom we may sometimes disagree than one who tells us what he thinks we want to hear.
The Union-Leader has something of a mixed history in picking a primary winner going back a decade or so. But given that Romney announced his candidacy in the pastoral setting of New Hampshire (one of a number of places he calls home), it's rather embarrassing for the current NH primary front-runner to have to endure this sort of editorial diss. The question of how influential this endorsement could be was seemingly answered by how Fox News' America's Newsroom, which opened their show in a rather breathless fashion, reporting "A major endorsement for Newt Gingrich and a colossal snub for Mitt Romney. The New Hampshire Union Leader putting its weight behind Gingrich saying he is not the perfect candidate but he is the best option."
The Union-Leader endorsement is a bad way to kick off the news cycle for Romney, who will spend this week (or longer) fighting the ghost of 2008. As we pointed out yesterday, Mitt Romney currently holds a commanding lead over the surging Gingrich in New Hampshire, at about 36% to 18%. At this same time in 2007, Mitt Romney led eventual nominee John McCain by an even wider 34%-13% margin. Then, McCain got the Union Leader endorsement, and went on to beat Romney in the New Hampshire primary by five percentage points, after losing Iowa to non-factor Mike Huckabee. This Fox News report is just one of many that will remind voters of this fact pattern today, and cut deeply at the sense of inevitability that is a key Romney selling point.
Watch Fox News' anchors Bill Hemmer and Martha MacCallum report on the segment below:
Have a tip we should know? tips@mediaite.com