Juan Williams Reveals Abuse He Received From Trump Fans After WikiLeaks Cell Number Leak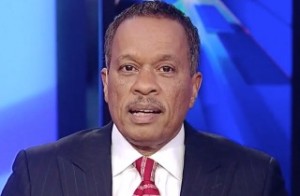 Juan Williams, one of the admittedly more liberal voices on Fox News, was inundated with strange messages on his cell phone last week when he was in Las Vegas covering the third and final presidential debate.
It didn't take him long to figure out that his personal cell phone number was published by WikiLeaks are part of its newest dump from Hillary Clinton campaign Chairman John Podesta. Williams had emailed Podesta in 2015, including a callback number, a common practice that he defended this morning in an op-ed written for The Hill.
Unfortunately for Williams, scores of Donald Trump supporters came across the Williams-Podesta link and accused the Fox News host of collusion with the Clinton camp. "But there was one serious line of criticism of my journalism in the anonymous text messages. The Trump supporters took my email to Podesta as proof that I am a "liberal stooge," who is guilty of "continued deceit,'" writes Williams.
Williams reveals many of the sordid correspondences:
"Now we know you are as corrupt as all the rest," one Trump-backer wrote.

Another concluded: "You are a sell-out, Criminal Clinton-crony." A more poetic version read: "How's it feel being in Podesta's pocket? Dark in there? If journalists have to kiss ass to get in, that's ridiculous. In three weeks we will see that those polls were cooked."

And one nasty note screamed: "Hey, you little bitch, I'm so glad we found out today you are paid for by Hillary and now I will never listen to you again."

The note to Podesta that led people to this condemnation of how I practice journalism was pretty straightforward.
Williams revealed that as part of his long career in journalism, establishing personal relationships with sources was nothing strange. He noted that around the same time, he was actively in touch with representatives from the campaigns of Jeb Bush, Ted Cruz, and Marco Rubio. He even met with Democratic challenger Bernie Sanders.
The wave of firm anti-Clinton sentiment that Williams was bombarded with came after the expected flood of juvenile messages that were sent just to ensure that the number did in fact belong to Williams, a cohost for Fox News's The Five. Williams writes:
The barrage of crude suggestions about me — "ignorant, alcoholic and token black on Fox that needs to go," — was interspersed with cheerleading: "Trump Will Win," "TRUMP, TRUMP, TRUMP…" and "Juan, you are a piece of … just wait till TRUMP wins by landslide."
Williams concluded honestly, "Trump really is 'talking down' the idea of a free press and honest journalism. I can tell you from personal experience."
—
Have a tip we should know? tips@mediaite.com