Residents Call to Have Trump's Name Removed From Building: It's 'Viscerally Uncomfortable'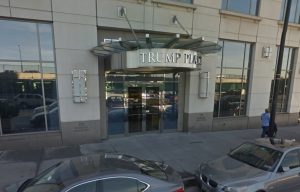 The Trump brand name may have been synonymous with success for many decades, but the divisive 2016 presidential run has left a bad taste in many people's mouths.
And now, residents in one of Trump's buildings in Manhattan are petitioning to have the big man's name scrubbed from the facade in an effort to quite literally Dump the Trump.
Residents who live in Trump Place at 220 Riverside Boulevard have signed a petition calling for the building to rename itself because ties to the combative GOP nominee have become "embarrassing."
Robert Stern, a resident of 220 Riverside, told the New York Post of Trump, "He's a jerk. I don't respect him. I don't want to be in a building that's blaring his name. His name used to be gold — but now its fools gold."
At least 81 residents in the building have signed the petition. A similar effort for a nearby building — 160 Riverside Boulevard — has also garnered several hundred signatures. The Trump properties all sit near Manhattan's West Side Highway with sweeping views of the Hudson River and neighboring New Jersey. The entire chain of Trump landmarks are all famously emblazoned with the "Trump" name for visitors to the West Side area.
Another woman (unnamed) who lives in the building admitted, "It's embarrassing to live in the building. I've had lots of friends make comments about it. My kids are so disgusted with Donald Trump that they find it viscerally uncomfortable to live in a building that has his name on it." She noted that it would cost upwards of $1 million to have the building renamed.
The user-generated petition comes just weeks after Trump Hotels announced that its newest brand will not include the iconic name of the real estate developer turned standard-bearer of the Republican party. Instead, the chain will use the name "Scion," a move that CEO Eric Danziger indicated was "a nod," to Trump family success without using the name itself. Forbes noted, "This may be a smart move, given the increasing signs that Donald Trump's contentious presidential run is becoming toxic for his brand."
—
[image of 220 Riverside via Google Maps]
Have a tip we should know? tips@mediaite.com