Frank Bruni: If Trump Was Black or Female, He Couldn't Get Away with Bragging About Sex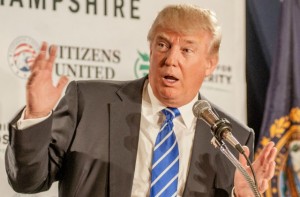 The centerpiece of Frank Bruni's latest New York Times column concerns Donald Trump's sexual prowess.
Take a moment to relieve your nausea if necessary
Anyway, Bruni finds it interesting that after years and years of our political leaders buttoning up about sex, it's fascinating (especially on the Republican side) to see a major party nominee who "braided proclamations of sexual potency with boasts of entrepreneurial prowess so tightly that they're inseparable."
It's been well-documented how much Trump has made outlandish remarks about women and their looks for years now, but GOP voters just don't care this time.
However, Bruni thinks there's a lot of double-standards at work here:
It would be tempting to consider this a kind of sex-positive progress — the twilight of excessive prudishness and the dawn of grown-up honesty — were it not for a few galling details and nagging questions.

For obvious starters, a woman would never get away with this or with anything in the remote vicinity of this, as I've noted before. Neither, in a political context, would a black man.
That link above is to Bruni's column "If Donald Trump Changed Genders," positing just how poorly a female candidate doing everything Trump is doing would fare––similar to what Bill Maher said about "Lady Trump" two days ago.
Bruni notes how Trump "thrives in spite of overtly sexist language and remarks that routinely objectify women" and wonders "how Trump's sexual braggadocio would diminish the dignity of the office and the country."
You can read his full column here.
[image via Andrew Cline/Shutterstock]
— —
Follow Josh Feldman on Twitter: @feldmaniac
Have a tip we should know? tips@mediaite.com
Josh Feldman - Senior Editor