French Train Attack Hero Spencer Stone Stabbed Repeatedly in Sacramento (UPDATED)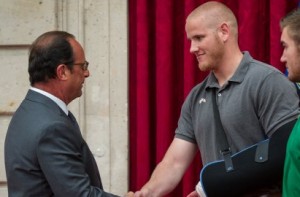 Spencer Stone, one of the off-duty soldiers who foiled the attempted terror attack on a French train, was stabbed repeatedly in Sacramento early Thursday morning.
Stone was originally listed in critical condition, but was updated to stable. Stone's injuries were reportedly so severe, the police inquiry into the attack began as a homicide investigation. Details about the motive and perpetrator behind the stabbing are still sparse, but initial reports indicated that the attack occurred at 12:45 AM.
Stone was thrust into the limelight after he and two friends subdued Ayooub El-Khazaani as he opened fire on a French train. Stone received a serious hand injury during the attack. He and his friends, Anthony Sadler and Alek Skarlatos, received a hero's welcome when they returned to their hometown of Sacramento in late August.
UPDATE –– 1:58 pm EST: Stone was stabbed near Travis Air Force Base, where he's stationed, and Sacramento police are saying he was "out with a group of friends when a physical altercation led to him being stabbed multiple times in his upper body." It's being described as a "nightlife related incident" that occurred outside a bar and authorities have released information about what the suspects look like:
UPDATE: Deputy Police Chief Ken Bernard says suspects were 2 Asian men wearing white t-shirts and blue jeans

— ABC10 (@ABC10) October 8, 2015
Stone went into surgery in the hospital and is now in stable condition. Law enforcement sources told Fox News that he came to the aid of a woman who was being harassed by a group of men and he was attacked by up to six people.
UPDATE –– 3:09 pm EST: Police released the surveillance video. Watch here:
UPDATE –– 6:20 pm EST: New reports say that Stone and a group of friends––reportedly another man and three women––were bar-hopping and the fight took place outside the gay nightclub Badlands.
[Image via Wikipedia]
——
>>Follow Alex Griswold (@HashtagGriswold) on Twitter
Have a tip we should know? tips@mediaite.com