Gabriel Sherman's Fox Fiction Now Bordering on Unhinged as Invisible Sources Continue to Fail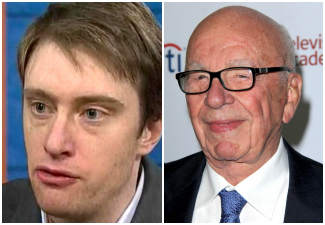 "The moment we want to believe something, we suddenly see all the arguments for it, and become blind to the arguments against it."
– George Bernard Shaw
The sustained credibility afforded to New York Magazine's Gabriel Sherman is one of the industry's great mysteries. Not since Eddie Mush in A Bronx Tale has one person been so consistently wrong so often. But because some believe what they want to believe, especially when it comes to Fox News, Sherman's exclusive reporting, courtesy of a cadre of invisible friends inside the walls of News Corporation, somehow continues to carry weight in media circles.
The question is… how?
The latest example of Sherman morphing into the Jackie Collins of journalism comes courtesy of Fortune Magazine, a highly-respected publication founded way back in 1929. In a world of fast-food content and unsourced fiction posing as hard-hitting journalism, Fortune distinguishes itself courtesy of deep-dive articles which are meticulously-sourced and researched.
So let's review: On January 13th, Sherman reports that (headline) With Roger Ailes Absent, Fox News Is Drifting — There Isn't Even a 'Trump Strategy'. In this New York Magazine "exclusive", Sherman – through four (unnamed) "high-placed" sources, paints a picture of an absent Ailes, Rupert Murdoch taking over running day-to-day editorial at FNC as a result, and a "fierce" Game of Thrones rivalry between the network's EVP of news, Michael Clemente, and Senior Executive VP of Programming for FOX News and Fox Business, Bill Shine –- Sherman claims they rarely speak to each other — to take Ailes' place after his departure. The only thing missing from this portrayal is an internal fight in a back alleyway on 48th Street complete with Brick Tamland, horses, grenades, and a trident.
So who's to say Sherman's narrative isn't true? Ailes is 75. People do tend to retire well before that age. And running a cable news network with all of its moving parts and politics would be taxing on anyone regardless of age. So some proceed to believe what they want want to believe, and Sherman's story is re-reported by Politico, Salon, Newsmax, the Huffington Post, Poynter (among many others). The Poynter perspective is particularly telling, courtesy of James Warren, its chief media correspondent:
"Hmmm. Let's hope Sherman is on the mark with an 84-year-old perhaps slowly moving on a 75-year-old. Given our love of conflict, we must hope for a media version of "The Sunshine Boys" (1976), with Walter Matthau and George Burns playing a long-retired legendary vaudeville act who reunite for a TV show and realize they detest one another."
In a related story, this teenage Burn Book stuff comes from a chief correspondent who is 63 years old. We believe what we want to believe, regardless of age.
One also has to wonder how Sherman defines "drifting" when it comes to network performance. He pushed the same narrative back June of 2015: Alies' hands were off the wheel via a demotion (that never happened), the void hadn't been properly filled from a leadership or lead editorial perspective, therefore FNC was drifting downward. The numbers say otherwise, as FNC was up 13 percent year-over-year in the demo in 2015. It also was the second most-watched cable network in primetime and third in total day. Context: That's the highest cable ranking for Fox in its 19-year history. Sherman, of course, never fails to mention these simple facts when pushing the drifting narrative.
But then on January 15, the aforementioned Fortune Magazine decided to do something unheard of in the business these days: While guys like Warren hoped for conflict and reporters like Sherman based his findings around unnamed sources (if they even exist), Fortune actually picked up a phone and called Murdoch directly. Per Fortune's Andrew Nusca, who appears to have no prior relationship with the 84-year-old Murdoch or had even spoke to him before this interview (bold to indicate when Nusca is speaking):
…A spokesperson for 21st Century Fox declined to comment to Sherman.

Why not ask Murdoch himself, then? Fortune called the executive to ask him directly. What follows is that conversation, lightly edited and condensed for clarity.

Fortune: Hi, this is Andrew Nusca from Fortune.

Murdoch: How do you do. Yep?

I'm just calling because I thought you might want to say something about the Gabe Sherman report about Roger Ailes taking a backseat at Fox News.

Oh, I thought you were calling Roger and they put you on to me. I've got every confidence in Roger, you know? His health is fine. It's true he had a little problem with his back for awhile, but otherwise, he's micromanaging the place just as much as ever.

Obviously Gabe Sherman has been reporting a lot on you folks over the years.

He's got an agenda. Mmmhmm.

What is misunderstood about how this company is run? What insight can you lend me how responsibilities are divvyed up?

Well I'm the boss and I tend to dip into things a lot. Basically, big decisions come through me. Lachlan is my right hand, he's co-chairman [of News Corp], and my son James is chief executive. I still have, you know, Chase Carey in the next office to consult on big issues and I have the rest of the corporate suite—the CFO is terrific.

Given the reports, are there misunderstandings between how things are balanced between you, your sons, and Roger?

I didn't read much [of the coverage] to be honest. Things are that—Lachlan is co-executive chairman, actually at both companies. James is chief executive. You know, everybody has to report to both of them. In practice, Roger tends to report to me. But that's fine with everybody.

Is this all just overblown, the idea that Roger is taking a backseat?

Oh, it's bullshit. Absolutely.
Imagine that? Picking up a phone and actually asking a question to the very subject in question. The rest of the Fortune interview can be read here.
BS isn't exactly a foreign concept when it comes to Sherman's reporting. And before you say this is a matter of he said-he said, here's a few examples of New York Magazine's National Affairs Editor getting it completely and utterly wrong in the relatively recent past (emphasis mine):
1) Claim:
"Joe Biden is running for president – a fact that has been obvious, and true, for weeks. He spent the week continuing to phone key Democrats in early voting states and huddle with his kitchen cabinet, which includes his chief of staff, Steve Ricchetti; message man Mike Donilon; longtime adviser Ted Kaufman; and sister Valerie Biden Owens. He spoke with Harold Schaitberger, the general president of the powerful firefighters union, and won his endorsement, should he declare. According to a source, he told Schaitberger that "all the political pieces are in place."
Outcome:
Whoops. Note: It's one thing to predict something (Example: the Cardinals will win the Super Bowl); it's quite another to present a story as factual (Example: Joe Biden is running for president) before it turns out not to be the case.
2) Sherman reported that Howard Stern called Donald Trump to help provide him some juicy material for the billionaire to use in his one-sided war with Megyn Kelly, which Stern promptly denied on his radio show. I distinctly remember listening to Howard that day and noted the disbelief in his voice when Sherman's report was making the rounds. Know this: Love Stern, hate Stern, but there's two primary reasons why Sirius is paying him $90 million per year: unmatched talent and unquestionable candor. Ask any fan. Howard is as honest as it comes when communicating with his audience. It's why he compels his interview subjects to share details of their lives they wouldn't dare to divulge to anyone else. Stern gets that kind of information because he's instantly credible to subjects he's even meeting for the first time and gains trust simply by being himself. So when Sherman decided to drag him into his latest fable on Fox, he picked the wrong guy to involve in Stern:
Sherman's report:
Ailes offered Trump the chance to do a special on Kelly's prime-time show to clear the air – an offer Trump flatly refused. "Donald was sufficiently pissed off that there was no way that was happening," a person familiar with the call told me. According to the source, Trump's ire was especially stoked after Howard Stern called to tell him about a 2010 interview in which Kelly joked about her breasts and her husband's penis. (Update: On his radio show, Stern says he didn't call Trump.) Ailes offered other shows, and Trump agreed to appear on Fox and Friends and Hannity, two venues that have been loyal boosters of his candidacy.
Outcome: Howard's denial, which isn't what one would characterize as ambiguous:
"I'd offer [Sherman] a million dollars if he could prove that this is true, because it's not true… I thought Megyn Kelly was a total lady when she was here. Yeah, I asked her about her bra size. Big deal. There's no smoking gun there. Again, I don't know who these people are that write these articles."
Outcome: Sherman didn't become one million dollars richer. Stern challenged him and Sherman didn't deliver because there was nothing to offer as proof.
3) Claim: On June 17th, Sherman reported there was a power shift at Fox News and Ailes was being demoted as noted earlier:
Outcome: Ailes signs a new contract days later (which was obviously already in the works given how complex these things can be at that level)
There are other recent examples of more claims being debunked here and here, but you get a point. Other writers don't use this word very often in this business, but it absolutely applies here: Gabe Sherman — all in an effort to keep his I-have-inside-info-nobody-else-does brand relevant — is a liar, and a seemingly unhinged one at that given how often he keeps going back to the same empty well while embarrassing himself in the process.
The words change, but the song remains the same: Gabe sees a situation, conjures up his own narrative around it… then proceeds to add unnamed sources to avoid the appearance of guessing or hoping for a scenario to play out. And despite being Eddie Mush — for being wrong so often — his stories still continue to be passed along by other writers/publications in the business and presented almost as gospel.
Why?
The explanation is simple.
Because we believe what we want to believe.
— —
Follow Joe Concha on Twitter @JoeConchaTV
This is an opinion piece. The views expressed in this article are those of just the author.