'Game On' Is Probably The Best Country Song About Rick Santorum You'll Hear Today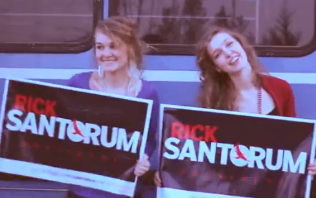 Sisters Haley and Camille Harris, pastor's daughters who together form the band "First Love," have written a country song about their candidate of choice, Rick Santorum. And it's already among my favorite songs because it rather deftly manages to rhyme "again" with "Ronald Reagan." Sing it with me, if you please: "There is hope for our nation again! Maybe the first time since we had Ronald Reagan." That is not easy to do, guys. But they did it!
RELATED: Jimmy Fallon Impersonates Pearl Jam's Eddie Vedder To Sing About Jeremy Lin
The girls share a bit about themselves on their band's website, including tidbits about their Christian faith, their travels, their food preferences (Haley loves chocolate), and the fact that their lives probably wouldn't make for a great reality series:
Life is Simple & Lovely around our house. We love each other, the kids don't fight, we're allowed to sit on the counters & ride scooters through the house… and our parents are our friends. We probably wouldn't make for a great reality TV show… cuz the only rise of the story would probably be dad telling the kids to clean the house… and/or him crying to our music… haha. For Reals. :)
Have a listen to the song, below. Their voices really are quite lovely. But be warned… this'll be in your head all day. Until you switch to "I Am America," naturally:
And here are the lyrics, courtesy of their YouTube page:
VS 1:
GAME ON! Join the Fight
We've finally got a Man who will Stand for what is Right
GAME ON! Victory's in Sight
We've got a Man who Understands that God Gave the Bill of Rights
CH:
Oh, there is Hope for our Nation again
Maybe the First time Since we Had Ronald Reagan
There will be Justice for the Unborn
Factories back on our Shores
Where the Constitution rules our land
Yes, I Believe… Rick Santorum is our Man!
Vs 2:
GAME ON! He's got the Plan
To Lower Taxes, Raise Morale, To Put the Power in our Hands
GAME ON! Change is at hand
Faithful to his Wife and Seven Kids – He'll be Loyal to our land
BR:
Oh It's crazy, What's been slipping through our hands
When we the People are still supposed to rule this Land
Rick Understands
TAG:
GAME ON!
h/t The L Magazine
Have a tip we should know? tips@mediaite.com