Gawker Lawsuit-Backer Peter Thiel Paints Himself as Free Press Defender in NYT Op-Ed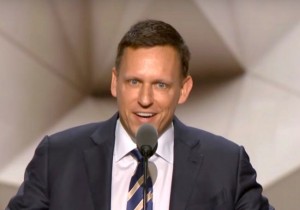 Peter Thiel: Free Press Defender?
The Silicon Valley billionaire who funded wrestler Hulk Hogan's lawsuit against Gawker wrote an op-ed for The New York Times in which he tried to pass himself off as an ardent First Amendment supporter.
Thiel writes that it is on journalists to police their own when a story is published that "violates privacy and serves no public interest":
A free press is vital for public debate. Since sensitive information can sometimes be publicly relevant, exercising judgment is always part of the journalist's profession. It's not for me to draw the line, but journalists should condemn those who willfully cross it. The press is too important to let its role be undermined by those who would search for clicks at the cost of the profession's reputation.
At the same time, Thiel stated that not only will he continue to finance the Hogan lawsuit through the appeals process, he would also help others fight similar battles.
"For my part, I am proud to have contributed financial support to (Hogan's) case," Thiel said. "I will support him until his final victory — Gawker said it intends to appeal — and I would gladly support someone else in the same position."
Thiel penned the Times op-ed in support of the Intimate Privacy Protection Act, which is currently being debated in the House. Thiel wrote that the so-called "Gawker bill," (which he described as "a bipartisan bill that would make it illegal to distribute explicit private images, sometimes called revenge porn, without the consent of the people involved") would be "a step in the right direction."
Read the full piece here, via The New York Times.
[image via screengrab]
–
Follow Joe DePaolo (@joe_depaolo) on Twitter
Have a tip we should know? tips@mediaite.com
Joe DePaolo - Senior Editor