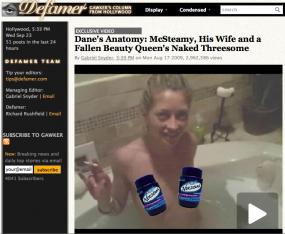 Well, I hope you all got your fill of the "McSteamy" sex tape over at Gawker because it ain't there any more. For those of you who aren't down on your TV star threeway knowledge, the infamous tape featured Grey's Anatomy star Eric Dane, his wife and star of Dead Like Me and a bunch of other things I don't like as much, Rebecca Gayheart, and "beauty-queen-turned-Hollywood-madam" Kari Ann Peniche in some decidedly NSFW action and garnered all sorts of traffic for Gawker and some of its sister sites. After a lengthy court battle, Gawker has finally relented and taken the video down. Damn! Now we'll have to settle for one of the millions of other C-list sex tapes out there!
The video's been up for a year and the married two-thirds of its cast have been in a legal fight with the site since September. They chose the interesting route of claiming copyright infringement, something that The Hollywood Reporter legal blog points out is rather unique in the never-ending stream of cases where celebs try to stop the dissemination of their dirty vids. In December, it seemed like the couple was fighting a losing war but, nevertheless, Gawker has settled for an unknown sum and the video is no longer available for to fans of famous genitals.
Interestingly enough, Gawker would like to make it completely clear that they didn't take the video down because, y'know, it was the right thing to do or anything. Oh, no no no. On the contrary…
From THR, Esq.:
"'Although we are confident that our use of the video on Gawker was protected fair use, because the posts already had been available to our readers for nearly a year, and because we already had won an important decision from the court striking large parts of the plaintiffs' damages claims, we agreed to remove the posts as part of a global settlement to avoid the burden of further litigation,' Gawker COO Gaby Darbyshire said in a statement."
While this is a semi victory for the couple, the fact remains; no matter how famous you are, millions of bored people will pay to see you naked and there's not yet a quick way to put the sex video genie back in the bottle, so, unless you're willing to pay exorbitant legal fees for months, you better keep your private home movies as private as possible.
Have a tip we should know? tips@mediaite.com