Gawker's Nick Denton Struggles to Explain 'True and Interesting' Standard for Stories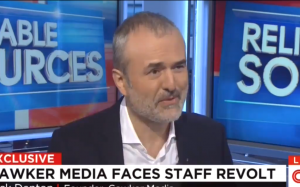 There seems to be a full-blown revolt over at Gawker Media, following the news blog's removal of a controversial post about a media company's CFO that Reliable Sources' Brian Stelter wouldn't even reference by name or subject. Gawker Media editor-in-chief Max Read and executive editor Tommy Craggs resigned on Monday, and more writers are threatening to do the same.
Stelter asked Gawker Media founder Nick Denton about these events and others on Sunday, saying that "if Gawker's not a snarky, no-hold-bar gossip site anymore, what is it?"
Most of the discussion that resulted had to do with the site's questionable story, in which the CFO supposedly ordered the services of a male escort and gay pornstar. Denton maintained that he hadn't read the story beforehand, but knew of it's existence. Pressed further by Stelter on this point, Denton opined that he thought "they would take more time."
Yet Denton's position, which is already flaky at the moment, seemed to crumble entirely when Stelter brought up a previous interview from a few weeks back, when the pair discussed Gawker's ongoing legal battle with ex-WWE wrestler Hulk Hogan:
STELTER: Knowing what you know now, knowing all of the legal costs already, would you have still published the video?

DENTON: I am glad that the decisions that are taken on publishing, taken at the time. I'm glad that we only really look at whether the story is both true and interesting. This story was true and interesting, and we would absolutely publish it again in a heartbeat.
After playing the clip, Stelter asked whether or not Denton's "true and interesting" "rubric" still applied to Gawker Media's current editorial mission, in light of the Geithner story's removal. And how did Denton respond?
By talking about the difference between him and ex-executive editor Tommy Craggs. In other words, Denton avoided the question entirely, and spent most of the rest of the interview dodging the question and similar lines of inquiries by Stelter.
Check out the clip below, courtesy of CNN:
[Image via screengrab]
— —
>> Follow Andrew Husband (@AndrewHusband) on Twitter
Have a tip we should know? tips@mediaite.com