Gay Radio Host Suggests Gay Mitt Romney Supporter Would Be Better Off Killing Himself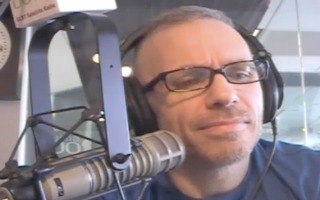 During a recent broadcast on SiriusXM's gay-themed network Out Q, radio host Michelangelo Signorile advised a caller who said he supports Mitt Romney and voted for him that he should kill himself. Signorile reasoned that suicide would be preferable to the "slow, painful" death he will experience under a Romney administration.

Signorile was recently confronted on his radio program by a gay Romney supporter who attempted to justify his reasoning for casting an early ballot in Utah for the Republican Party's presidential nominee.
After going through the litany of reasons why President Barack Obama was the clear choice for gay voters due to his support for causes like same-sex marriage rights and openly gay Americans serving in the military, Signorile severely admonished the caller, telling him he's the "epitome of a low-information voter" and suggested he would be better off committing suicide than voting for a Romney presidency.
"Go to the drug store. There are plenty of things you could get. It'll put you to sleep really, really easily," Signorile told the caller. "Because that would be a better way than the convoluted, twisted way you're [killing yourself]. You're stabbing yourself in the back."
"You went and voted for him. It would have been much easier to go to the store and buy some arsenic and make a potion and take it. You know what I mean?"
"Nope. I have no clue," the caller named "Wes" replied.
"That would have been much easier than waiting for the slow, painful death that Mitt Romney will bring you," Signorile continued. "You should not be allowed to vote."
Listen to the segment below via The Gist with Michelangelo Signorile:
[h/t Gay Patriot]
> >Follow Noah Rothman (@Noah_C_Rothman) on Twitter
Have a tip we should know? tips@mediaite.com