George Zimmerman's Gay Brother Claims He Almost Slept with Female Cable Newser…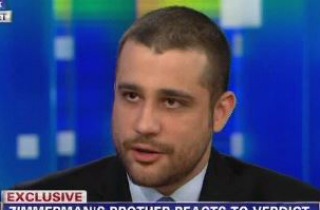 The GQ profile on George Zimmerman contained many odd tidbits (the fact that CNN reportedly paid for Zimmerman's hotel room when he did an interview with them among them), but there's also a few other things; namely, that 1) Zimmerman's brother Robert claimed he nearly slept with a cable news talking head, and 2) had some ideas based on the Kardashian clan.
Robert Zimmerman's interviewer writes of a story he told about a "surreal night of drinking" where he was with a female cable news pundit and, supposedly, the Navy SEAL who shot Osama bin Laden. Zimmerman claims he ended up in bed with the woman and nearly slept with her, "until his bracelet got caught in her hair."
(It is worth noting at this point that Zimmerman is an out gay man.)
As for the whole Kardashian thing, Zimmerman was thinking about some rebranding ideas after his brother was found guilty and still had a bad reputation (understatement of the decade) in the media. He thought up a possible family business where Zimmerman would sell "Z Security Products."
Zimmerman's brother explained, "There's the Z Bar, the Z Rock, and the Z Beam. They're all targeted to women. One is to secure sliding doors. One is to put in the front door."
But he had bigger ambitions for his brother: a reality show. And yes, he was influenced by the Kardashians in this regard:
His models were John Walsh, who began hosting America's Most Wanted after his 6-year-old son was abducted and killed, and the Kardashians, whose fame was launched by Kim's leaked sex tape. "I learn a lot from watching Keeping Up with the Kardashians," Robert told me. "Like, use the shit you've got." One idea was for George to be the focus of a Candid Camera-style program.
[image via screengrab]
— —
Follow Josh Feldman on Twitter: @feldmaniac
Have a tip we should know? [email protected]
Josh Feldman - Senior Editor