Geraldo Confronts Fox's Eric Bolling Over 'Slanderous' Remark About Obama's Daughters And Benghazi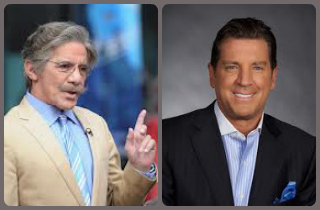 During his radio show on Monday afternoon, Geraldo Rivera tore into his Fox News colleague Eric Bolling for what he believed to be "slanderous" remarks about whether the post-Benghazi investigations would be different had the presidential daughters been the ones killed in the siege.
During last Thursday's edition of The Five, Bolling suggested the media would be asking different questions if it had been Sasha or Malia Obama who died in the Benghazi attacks. Liberal blogs proceeded to attack the Fox host for invoking the presidential daughters while excoriating the press and the Democrats for not being as concerned about a potential Benghazi cover-up.
Bolling appeared on Rivera's radio show and the two, along with former New York Governor Eliot Spitzer, got into a heated debate similar to their November 2012 "screaming match" over the Benghazi controversy. The trio went head-to-head-to-head over just how much scandal the administration's talking points should generate, and whether the feds are engaged in a cover-up.
Towards the end of the conversation, Rivera brought up Bolling's remarks about the presidential daughters, leading to this exchange:
RIVERA: Eric, did you say that President Obama would have sent help if Malia and Sasha were in Benghazi? Did you say that?

BOLLING: No, here's what I said…

RIVERA: Did you make that outrageous, slanderous remark?

BOLLING: Alright, ready. Do you want to listen? Or you just want to lob a grenade? Here we go: I turned to Beckel. I said, Bob, you have a son and daughter…. If they were there, would we be asking different questions? That is my quote.

RIVERA: I think it is unbelievable that you went that far.

BOLLING: Why?

RIVERA: Because to bring a man's daughters in — it just continues a slanderous angle that helps nobody. I got tears in my eyes because I love you.
Spitzer chimed in before the commercial break that Bolling has a "good issue here" with the Benghazi scandal, but cautioned the Fox host: "Don't waste it by going a bridge too far."
Listen to the full segment below, via The Geraldo Rivera Show:
— —
>> Follow Andrew Kirell (@AndrewKirell) on Twitter
Have a tip we should know? tips@mediaite.com