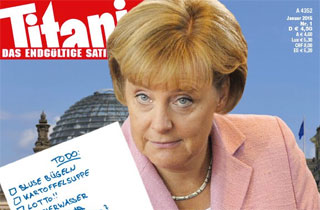 The German satirical magazine Titanic issued a statement of solidarity with the staff of Charlie Hebdo, promising to continue mocking the world ("right after lunch,") and humorously inviting terrorists to execute the "entire lying German press", with sandwiches scheduled for after the bloodbath.
Charlie Hebdo, its French counterpart, was the target of a terrorist attack today that left twelve dead, and is believed to be the work of Islamist terrorists retaliating for offensive cartoons published by the magazine.
After a few more jokes about having to deal with Facebook commenters (apparently a universal woe) and how murder might be somewhat "uncomfortable," Titanic issued this tongue-in-cheek ultimatum to the terrorists, loosely translated, on their website:
TERRORIST ALERT: At 16 o'clock, a press conference is scheduled in the TITANIC editorial offices, with [commercial TV station] RTL, [public broadcaster] Hessischer Rundfunk, [German daily newspaper] Frankfurter Rundschau, and all other private and public media present. This is an opportunity for terrorists to not only execute satire editors, but also the entire lying German press. There will be sandwiches afterwards!
Titanic's editor, Tim Wolff, told German broadcaster DW that they were "friends of the magazine" and that as of now, his own magazine doesn't feel threatened. "If it is indeed Islamists, I still don't see any reason for alarm," he said. "We have published very critical jokes about Islam in the past and we have found that Muslims, at least in Germany, are quite capable of dealing with this kind of humor."
He added that, if the attacks were in fact the work of Islamist terrorists, "then it makes satire even more relevant."
"Of course, on the personal level, we are scared when we hear about such violence. However, as a satirist, we are beholden to the principle that every human being has the right to be parodied. This should not stop just because of some idiots who go around shooting."
(And, truly, they will likely continue to mock everyone, as their latest cover, promoting a story called "Religions in Comparison", promises.)
[h/t Reddit]
[Image via TITANIC]
—
>> Follow Tina Nguyen (@Tina_Nguyen) on Twitter
Have a tip we should know? tips@mediaite.com