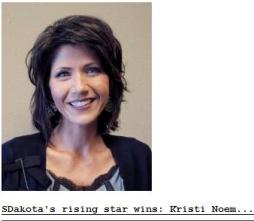 We've covered the 2010 midterm election… a lot over the last few days and weeks. But one name who hasn't been mentioned on Mediaite is Kristi Noem, and you know what, we're going to change that right now.
The newly elected GOP Congresswoman from South Dakota currently has not one, but TWO, pictures on Drudge, so it's time to learn about this person.
Noem defeated three-time Democrat Rep. Stephanie Herseth Sandlin for the only South Dakota seat in the House. She won by what is shaping up to be approximately three points. Both female candidates are under 40, which caused some to call this the "hottest race" in the House.
ABC News dubbed Noem a "hot" candidate last month, but for a different reason – her ability to raise money.
So… attractive, conservative – obviously the question becomes: is she the next Sarah Palin? She downplayed the direct comparison, although inevitably it was made quite a bit.
But who is she? Well, she sounds a bit Palin-ish, from her bio. She's a farmer and a hunter, which is like what Sarah Palin would probably be if she lived in South Dakota instead of Alaska. She has three children, which have fantastic names: Kassidy, Kennedy, and Booker. She has also attended three colleges. And from the rest of her bio – well she's certainly not part of the Washington establishment.
And now she's in Congress. Get ready for more Kristi Noem…
Here was one of her campaign ads, in which she rides a horse and closes with the line "Sorry, Nancy.":


—–
» Follow Steve Krakauer on Twitter
Have a tip we should know? tips@mediaite.com