Giuliani On The View: There Will Be Plenty Of GOP Candidates Without Sarah Palin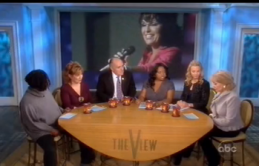 Welcome to day one of the 2012 Presidential Election Race. On The View this morning former Mayor of New York Rudy Giuliani weighed in on the question much of the media will spend at minimum the next six months hashing over: Will Sarah Palin run for President. Sort of. Actually, he threw a cold bucket of reality on her proposed plan.
Barbara Walters: She now says she will run if nobody else will. Do you think she would make a good President?

Giuliani (laughing): Well, first of all, she's not going to have that situation — that nobody else will [run]. I ain't never heard of that! Nobody will run for President of the United States? There are now people registering as Republican in order to line up to run.

Walters: What about her? Joy says that she's scared.

Giuliani: Nothing to be scared of. Let the American people decide There was an article in Politico a couple of days before the election. This was mostly Republicans. The cowardly ones who don't speak for attribution. And they are very afraid Sarah Palin is going to run and they are going to do everything to stop her…how about letting the Republican party decide. Let her run! If she's as bad as you think she'll lose, if she can really make her case she will win…she has a hell of a lot more qualifications to run than Barack Obama did when he ran for president.
Cue booing. Later Giuliani said he would consider running if "nobody else runs." Meanwhile, it sounds like he is trying to have his Tea Party cake and eat it too. Watch below.
Have a tip we should know? tips@mediaite.com