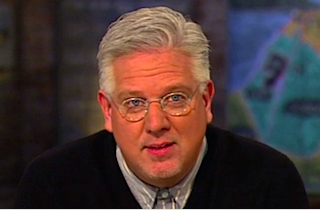 Glenn Beck has long flirted with the idea of leaving the Republican Party once and for all and during his radio show Wednesday morning he finally pulled the trigger.
"I've made my decision — I'm out. I'm out of the Republican Party," Beck declared. "I am not a Republican; I will not give a dime to the Republican Party. I'm out." And he had some advice for his listeners: "Run from the Republican Party. They are not good."
Beck went on to accuse the GOP of abandoning their principles by failing to effectively stand against Obamacare and immigration reform. "They set us up," he said. "Enough is enough."
"They're torpedoing the Constitution and they're doing it knowingly," the host continued. "They're taking on people like Mike Lee and Ted Cruz and they are torpedoing them. Knowingly. And these guys are standing for the Constitution."
"So I'm done with them," Beck concluded. "Four years ago I was with them. Four years ago I said, 'Work from the inside, let's change it, let's get new guys in there.'" But now, he added, "It's too late."
While Beck is just now saying he no longer considers himself a member of the GOP, it was more than two years ago that he celebrated the "death" of the Republican Party, complete cake, confetti and footage of dying elephants.
Watch video below, via TheBlaze:
[Photo via screengrab]
— —
>> Follow Matt Wilstein (@TheMattWilstein) on Twitter
Have a tip we should know? tips@mediaite.com