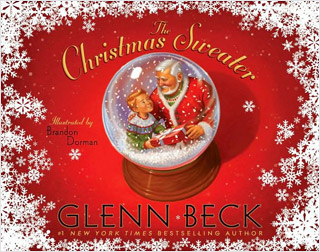 We'll just say it – there's not a single thing Glenn Beck won't dominate right now.
TV, radio, publishing, and now, Children's book. That's right, another New York Times bestseller.
In the wake of his last New York Times #1 bestseller, "Arguing With Idiots," way back a couple weeks ago, Beck's new Children's book, "The Christmas Sweater," reached #1 on the NYT list this week.
This makes it five consecutive publications to debut at #1 on the NYT bestsellers lists. His publisher believes he has made history. From the release:
Beck's publishing house, Simon & Schuster, believes that Beck has become the only author in history to ever have #1 New York Times bestsellers debut on these four different lists: hardcover fiction (The Christmas Sweater), hardcover nonfiction (Arguing with Idiots and An Inconvenient Book), nonfiction paperback (Glenn Beck's Common Sense), and now with The Christmas Sweater: A Picture Book, children's picture books.
And some of these books by Beck are still hanging around their respective NYT lists. "Arguing with Idiots" is #5 on the hardcover nonfiction list in its 6th week and "Common Sense" is #8 on the paperback nonfiction list. It was released June 16 and has currently sold more than 1 million copies. At this point Beck could release a collection of drawings from his chalkboard and it would hit #1.
As for the next time you'll see Beck on TV or radio, he tweeted today that he's slated to be back tomorrow. We're sure he's got a lot to say in the week he's been off air.
—–
» Follow Steve Krakauer on Twitter
Have a tip we should know? tips@mediaite.com