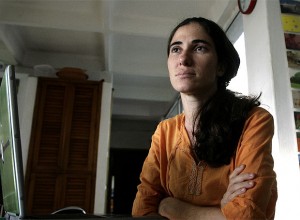 In the two years since she started writing her blog Generation Y, Yoani Sánchez has become one of the most notorious voices of Cuban dissidence. Using different methods to overcome the restrictions for Internet access on the island, this former philologist has turned posts on her daily struggles into metaphors for the Cuban drama.
Her blogging has also produced two books and received awards such as Spain's Ortega y Gasset and Columbia Journalism School's Maria Moors Cabot. But the Cuban government has denied her permission to travel to receive them. What makes Sánchez's story more compelling is that she emigrated to Europe in 2002, but decided to return to the island two years later "for family reasons and against the advice of friends and acquaintances."
Last Friday, while she was on her way to a demonstration for nonviolence in Havana with friends, Yoani says she was kidnapped and beaten by men in plain clothes — presumably state agents — in what seems to be the first documented physical attack on members of the growing network of Cuban bloggers. She described her injuries as "No blood, but black and blues, punches, pulled hairs, blows to the head, kidneys, knee and chest." (Update: The U.S. Department of State has written a letter to the Cuban authorities saying it "strongly deplores the assault on bloggers.")
We spoke to Yoani on Sunday night.
###

How are you, Yoani?
Well, I can't say I'm fine, but I'm here.
I read the post where you narrate how you were kidnapped and beaten. Is there anything you want to add to it?
Well, a few hours ago I dictated a post through the phone — I imagine it's already online. It's a reflection on being a victim and the things that I didn't say earlier.

One of the things that strikes me the most about this attack is that your blog is mainly about daily life in Cuba. You are not criticizing anybody in particular or making incendiary denouncements. Your posts are about simple things. It is shocking that the Cuban government can be afraid of that.
I don't think they are afraid of me, because I'm just a little person that they can easily eliminate. What they are afraid of is the phenomenon of the alternative blogosphere, the phenomenon that more and more young people are projecting their voices: that is tremendously contagious. This is why they may be attempting to make a sort of 'prevention,' applying some sort of vaccine, so the blogger virus, the virus of opinions, does not spread. I don't think their attack is against the person of Yoani Sánchez, but rather against the blogger phenomenon, a phenomenon of different opinions that is taking place in Cuba. They want to paralyze as many people as possible with a preventive strike.
"They don't understand that these new phenomena can't be fought with the old weapons of repression. They still haven't understood the potential of the web."
Has anything like this happened to you before? Were you followed or attacked?
In the two years I've been writing my blog, I've been living as if in one of those Saturday night films: people following me wherever I go. But until now they hadn't interacted in a physical or violent way with me.
There was one precedent, however. During a rock concert, where some friends and I demanded the liberation of a musician, there was some sort of organized violence. But it was covered by the loud music and everything else going on at the concert. What happened [on Friday] was more direct, more aimed at the blogosphere. Those affected by this action were blogger Claudia Cadelo, blogger Orlando Luis Pardo and me. This shows that [those in the Government] are particularly stricken by the potential our words have through the Internet.

But that reasoning is flawed, too. Your work has received recognition outside of Cuba and it's impossible to cut your access to the web. By attacking you, they might make you a greater figure than if they just ignored you.
Of course, but they are dunces. Their main problem is that they don't understand that these new phenomena can't be fought with the old weapons of repression. They still haven't understood the potential of the web, and that these repressive measures do nothing but increase the number of hits on my blog. They haven't understood very well what is it that the new technologies do, nor the different effects that repression causes when a blogger is attacked. So they are just employing the old methods of restraint, intimidation, and attempting to isolate you. But they actually produce the opposite effect.

In the post you wrote about the attack, you state that the actions of your kidnappers were motivated by the "the blustering terror of he who knows that his days are numbered."
Yes, because when the arguments and the faith in a system are over, when the people stop believing in a certain political discourse, those who are in charge can only resort to violence and restraint. This is what we are seeing in Cuba now: the absence of any sort of argument, handling people through violence and fear. This is all we have left. There is no symbolical legacy, none the things that existed in the first years of the [revolutionary] process. Terror is the only thing that remains.
>>>NEXT: "I run towards the place where fear is born."
Have a tip we should know? tips@mediaite.com