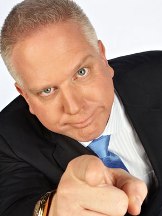 During the Fox & Friends interview with Sarah Palin last week, besides saying she wants to interview Katie Couric, she also weighed in on the potential of a Palin-Glenn Beck ticket in 2012. She thought Beck must think the whole discussion is a "hoot" and didn't rule anything out.
Beck responded to the potential ticket on the radio Wednesday: he doesn't think anything is a "hoot," the ticket would have to be Beck-Palin, and she'd probably just be "yapping" instead of staying "in the kitchen." You know, kidding, of course.
During the interview, which Beck played twice as he set up his own take, Palin told Gretchen Carlson: "I got a kick out of it, and he probably thought that was just a hoot too. I don't know. We'll see, we'll see." During an earlier interview with Newsmax, Palin said she thought Beck was a hoot as she also didn't rule out the possibility of a joint run.
"I don't think things are hoots," said Beck. "I don't. I don't think it's a hoot. I would never use the word hoot and I respectfully ask that every time my name is brought up she stops using the word 'hoot.'"
Laughter from the studio ensues. Then to the real issue – what about a run? Beck ruled it out, then had this exchange:
Beck: Beck-Palin, I'll consider. But Palin-Beck…Can you imagine, can you imagine what an administration with the two of us would be like? What? Come on – she'd be yapping or something, and I'd say, 'I'm sorry, why am I hearing your voice? I'm not in the kitchen.'

Co-host: You'd you have to live up to evil conservative stereotypes, you'd have no choice but to do so.

Beck: I'd have to. Look I talked to the woman about it, I don't even know what she was saying.
He's kidding of course – Glenn Beck touts the merits of Sarah Palin on a regular basis on his Fox News program. But just like we identified the difference between Radio Lou Dobbs and TV Lou Dobbs, there's a difference between Radio Glenn Beck and TV Glenn Beck. From his Zoo Crew roots, Beck's career on radio runs deeper than his TV career, and involves a lot less serious political discussion. Instead, his radio show is looser, and he feels more free to press the limits of humor. Even Beck's interview with NY-23 conservative candidate Doug Hoffman, when he called Beck his mentor, was a far different tone than when he discussed the race on TV.
Still, the whole 'women belong in the kitchen' line when discussing Palin, even as a joke about what others think as his co-host indicated, gets dangerously close to crossing the line of sexism. Maybe TV Beck needs to have a talk with Radio Beck.
(via ThinkProgress – h/t Gawker):


—–
» Follow Steve Krakauer on Twitter
Have a tip we should know? tips@mediaite.com