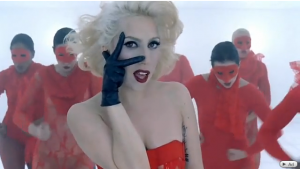 RA RA RA NA NA NA NA RA NA NA…okay I am maybe a little obsessed with Lady Gaga and her latest single, "Bad Romance," and its crazy, fantastic video filled with crazy, fantastic costumes. The video, shot by I Am Legend director Francis Lawrence, also has a crazy, fantastic storyline: Lady Gaga emerges from a pod in a white bathhouse, is kidnapped by supermodels, force-fed Ukranian vodka, dressed in couture, lingerie and floating diamonds and is sold to the Russian Mafia as a white-hot concubine. The video is flat-out stunning and must-watch-again-immediately exciting. My only complaint: There is SO MUCH in there, and it goes so fast! Like any obsessed fan, I wanted more. So I took 63 screenshots. Who wouldn't?
Certainly not you, which is why you are going to watch the video and then click through to study your favorite screenshots with the luxury of time. The video is so opulent, so gorgeous, and so detail-rich that it really does merit a closer look. For some, that closer look will be motivated by the trademark scanty costumes (where, indeed, they are worn at all) — Lady Gaga and Co. are big fan of the body-hugging latex, the highly-accessorize barely-there bikini and showing off her new supermodel-esque figure (vive la difference)(by the way, I am amazed that this shot made it past the censors, unusually lingering as it was…it gives you more than enough time to notice the see-through fabric on her black lacy thong…all the way through. Okay, FEK, I think we have pretty conclusive evidence here.) But for aesthetes, fashion-philes and fans of the fabulous, this video is as addictive and compelling as anything Gaga is singing about. Put it this way: I want this video's love, and I don't want to be friends.
Watch it below, and then take your time with the close-ups. You won't be sorry.


In no particular order. Click on the thumbnails screenshots, then click for close-ups. How amazing is she? Love love love, she's got my love.
Have a tip we should know? tips@mediaite.com