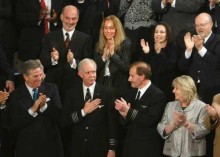 So it's that time of year. Everyone is trying to figure out who the most important person of the year is. Time will be releasing their pick shortly (though they have been known to apply the term "person" loosely). So: Who is the most important person of the year? If one were to judge the merits based solely on the amount of words the media has devoted to a particular person in the last twelve months than likely we'd be looking at a horse race between Sarah Palin and Barack Obama. Of course, there are perhaps larger things to consider like, say, landing a plane on the Hudson river in the middle of January with no fatalities!
That, at any rate, appears to be the judgment of NBC viewers who are voting on which of NBC's people of the year are their favorites. Capt. Sully is leading a pack that includes Richard Philips, Kobe Bryant, Octomom, Susan Boyle, Taylor Swift, and President Obama.
Currently Capt. Sully has an average rating of 9.34, the president clocks in at 6.52, and Susan Boyle pops up somewhere in between (you will probably be relieved to here that Octo-Mom is barely on the charts with a 0.7 average). Conclusion? Everyone loves lists! Also the country is apparently more scared of flying than airport line-ups let on. What do you think? Here's an informal, unscientific Mediaite Person of the Year poll, based solely on who the people are that we have talked about most on this site. Have your say!

Have a tip we should know? [email protected]