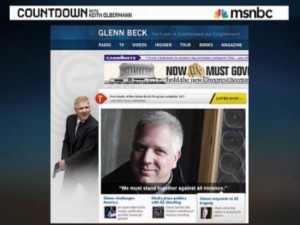 On Monday night's Countdown, host Keith Olbermann highlighted a screenshot from Glenn Beck's website that featured an unfortunate juxtaposition: a photo depicting Beck saying "We must stand together against all violence," and on the left sidebar, a picture of Beck holding a semiautomatic pistol. The image, first captured by Media Matters' Angelo "StopBeck" Carusone, has since been taken down out of "respect" for the events of this weekend, according to former Mediaite-ite Glynnis MacNicol.

The reflective mood that this tragedy has cast over the media seems to be having at least some tangible effects. Olbermann begins his segment by crediting Beck for his statement against violence, and doesn't really make any hay over the picture, beyond noting the juxtaposition:
Glynnis MacNicol points out that there's more to this image than meets the eye: (Anyone familiar with Glynnis' work, by the way, knows that her Glenn Beck sources are golden.)
The screengrab was taken from GlennBeck.com and is one of a rotating series of images you get when you refresh the homepage of the site.  Others include Glenn Beck the scientist, Glenn Beck the overdressed patriot, and Glenn Beck wrapped up in yellow tape.

…We are told by someone who has seen the full picture that it's actually of Beck shooting himself in the foot…something most people can probably agree is an fitting image for Beck's site.  That said, we're also told the image has since been removed out of respect for events in AZ.
Beck deserves credit for taking the image down, despite the fact that there's some risk his critics will pounce on it. The aforementioned Angelo Carusone, for example, has already cast this act in a negative light:
Oy. @glennbeck is in a bad mood this AM. Promises to go on offense…you know, like scrubbing images from his website.
The thing is, there will always be people who will not be satisfied, but that shouldn't stop anyone from doing the right thing. Like him or not, Beck did the right thing in this case, and should be held out as an example to others.
While visiting Beck's website to cycle through the sidebar images, I noticed something intriguing. One of the images features Beck wearing a tie with the frames of a motion picture countdown, much like the ones featured in the opening of…Countdown. Is this some kind of homage to Keith Olbermann? Only Beck knows for sure.



Update: Well, so much for Kum ba yah. Keith Olbermann is also not inclined to give Beck any credit for taking the photo down, as he just tweeted:
@Wary12 No, they yanked that after the gun photo was made known to them. They just didn't acknowledge how pathetic it was
Have a tip we should know? tips@mediaite.com