Glenn Beck Trashes Huffington Post For Misrepresenting Him Over 'Colored' Comments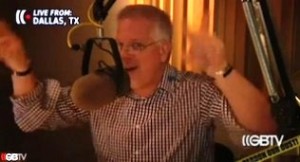 A couple of days ago, Glenn Beck got a lot of heat for comments he made on his radio show Tuesday. Beck and his cohosts questioned the term "African American," pointing out that it was ridiculous sounding when you were abroad. What got him in the most trouble was statements he made that seemed to imply that the term "colored" wasn't that bad. In response to the scandal, Beck furiously hit out against the media and especially the Huffington Post for misrepresenting what he said for the sake of driving traffic and discrediting his character.
The clip was first posted on Media Matters and, while Beck is certainly not a fan of theirs, he directly nearly all of his anger towards the Huffington Post and its writer Katherine Fung for this post. Presumably, this was because it was the presentation of his comments that really angered Beck as Media Matters posted the clip with no commentary.
Beck dissected the HuffPo post, decrying everything about it as unfair including the headline: "Glenn Beck: Term 'Colored' Is 'Not A Bad Thing,' 'African American' Is 'Ridiculously Stupid.'" As Beck pointed out, he was saying it was "ridiculously stupid" to say when you're not in America as African African sounds silly. He has a point that the headline is misleading, but he might be splitting hairs there as "ridiculously stupid" does basically sum up how he feels about the term anyway.
"You have to ask yourself, why did Katherine Fung and the Huffington Post write this and allow this to run? Why? The only reason is to smear and discredit me. These people that read the Huffington Post, they don't know who I am. They don't listen to who I am. I have to tell you, I was in South Africa, I was surprised that anybody even knew my name. You wouldn't believe the amount of hate that people have towards me. Why? They couldn't even tell you. They would tell you half truths and everything else and, when I was finished speaking, they'd all say, 'My gosh, that's nothing like-' Is it? Isn't that strange. Isn't that strange. It's almost like somebody who has billions of dollars is running a smear campaign."
Beck then broadened his critique to the media at large (including a shout out to us here at Mediaite).
Below is Beck's response. Below that are his original comments. What do you think? Was HuffPo or anyone else unfair?
(h/t GlennBeck.com)
Have a tip we should know? tips@mediaite.com