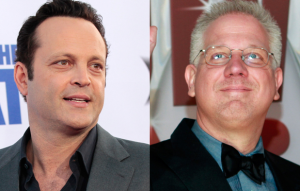 Glenn Beck + Vince Vaughn = Reality Show? TheBlaze TV announced on Wednesday that Beck is teaming up with the actor to produce a produce the reality series Pursuit of the Truth. It will premiere on the network next year.
Pursuit of the Truth "will bring together twenty selected filmmakers from across the country to prove to a panel of expert judges that their project is worthy of the grand prize – financing and worldwide distribution for their feature documentary film idea." The project is brought to you by Beck's TheBlaze TV, Vaughn and Peter Billingsley's Wild West Productions and Gary Auerbach's Go Go Luckey Entertainment.
Wondering what Vaughn is doing with a crazy person? You're not alone.
"I am proud to announce that Vince Vaughn and I are going to be the executive producers," Beck said on his radio show on Wednesday. "That should make everybody's head spin. What the hell is Vince Vaughn doing with a crazy man? I know, that's what my friends say. Glenn, what are you doing with the crazy man Vince Vaughn? Yes. It's great, isn't it? I love it."
Beck said he wants to "see the stuff that just isn't done." And "done right. And done without conspiracy."
For example: "I'd love to see something on the Federal Reserve, the game that's being played there. I would love to see something on why capitalism is actually a good thing, why it's not a bad thing."
The team is reviewing applications from filmmakers until the end of January. The nine-episode series will debut in spring 2013.
The segment from Beck's radio show below, via TheBlaze TV:

Have a tip we should know? tips@mediaite.com