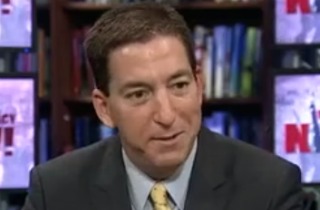 Torture has been a big topic in the news lately, and most of the big interviews networks have scored on the subject have been defenders of such interrogation techniques. As such, Glenn Greenwald today asked: What about the victims of torture?
In a new piece for The Intercept, Greenwald took note of how "U.S. television outlets have endlessly featured American torturers and torture proponents." Networks in the past week have spoken to former Vice President Dick Cheney, former CIA Director Michael Hayden, George Bush's Attorneys General, and James Mitchell, one of the psychologists paid millions by the U.S. government to help develop these programs.
Greenwald argues that the media overlooking the victims of torture is a way of dehumanizing the entire situation in order to prop up American might:
That human interaction converts an injustice from an abstraction into a deeply felt rage and disgust. That's precisely why the U.S. media doesn't air those stories directly from the victims themselves: because it would make it impossible to maintain the pleasing fairy tales about "who we really are."
Now, while no one in the media has necessarily addressed the lack of interviews with torture victims (save a Fareed Zakaria interview that Greenwald is highly critical of), in the past some have offered a defense of having people like Cheney on television, since it gives the media a platform to confront them to their faces.
Now, whether or not they're successful is a different matter.
[image via screengrab]
— —
Follow Josh Feldman on Twitter: @feldmaniac
Have a tip we should know? tips@mediaite.com
Josh Feldman - Senior Editor