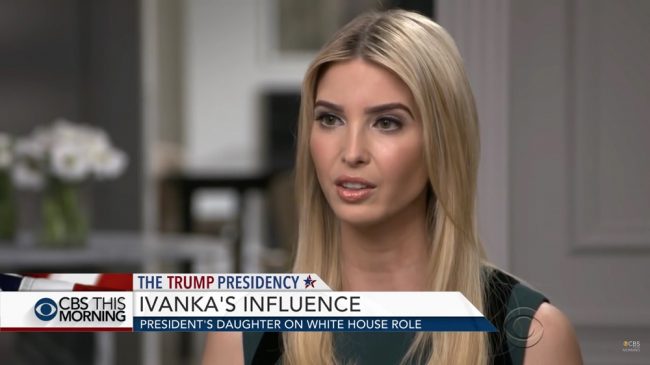 Ivanka Trump's popularity in China is apparently so great that a social media group has been dedicated to "Goddess Ivanka."
NBC News devoted a Thursday item to spotlighting how the Trump daughter is "becoming a cult figure for many in China." The Big Three outlet noted that "a bewildering array of products, from jewelry and underwear, to mattresses and formula milk powder" are now bearing Ivanka's name.
The "Goddess Ivanka" fan page appears on "Sina Weibo, one of China's largest social media platforms," and it reportedly has "over 12,700 registered followers."
The article zeroed in on how Ms. Trump posted a Twitter video of her daughter, Arabella, singing in Chinese to Chinese President Xi Jinping and his wife during his recent visit to the U.S.
Arabella had already become an internet superstar in China after [Ivanka] Trump posted online videos of her reciting a classical Chinese poem and singing a song she learned for Chinese New Year. It was seen as a touching gesture at a time when many in China are worried about President Trump's China-bashing rhetoric.
Very proud of Arabella and Joseph for their performance in honor of President Xi Jinping and Madame Peng Liyuan's official visit to the US! pic.twitter.com/fu3RIh26UO

— Ivanka Trump (@IvankaTrump) April 7, 2017
NBC also pointed out how state-run press outlets have covered Ms. Trump: "China's official news agency Xinhua has described Trump as 'capable and stylish,' and the Communist Party's flagship newspaper, The People's Daily, called her 'elegant and sociable.'"
NBC later quoted street interviews of Chinese citizens in Beijing, who all gushed over Ivanka.
[image via screengrab]
Have a tip we should know? tips@mediaite.com