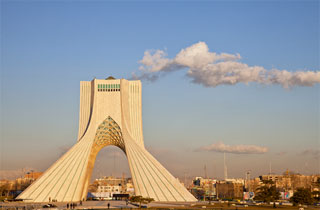 Have you ever thought, "Gee, the geopolitical situation in Iran is pretty hairy right now, and America hasn't had diplomatic relations with Iran for decades, but I'd still really love to visit, and also, I want a pre-eminent newspaper to take me"?
Today is your lucky day, because for $6,995 or more, a New York Times journalist will take you on a beautiful. 13-day journey through Iran, to discover all of the beautiful things Iran has to offer:
Starting in Tehran you will journey across country through beautiful landscapes, arid mountains and rural villages to experience vibrant bazaars, get lost in ancient cities and learn about the traditions and cultures of Iran. Traveling in a small group and staying in luxurious hotels along the way, your journey through Iran will reveal the secrets from this once forbidden land.
Tehran, for instance, is a beautiful Iran thing:
Tehran is an interesting fusion of old meeting new; conservative elders uphold the traditions of the illustrious Persian past while the young and fashionable adopt a new trendy joie de vivre.
Observe the things from Iran's illustrious past when it was known as the Persian Empire, ruled by that ridiculously pierced guy from 300:
And even some Jewish things!
Along with your experienced guide, explore the biblical tomb of Ester and Mordechai; regarded as the most important pilgrimage site for the Jewish community in Iran. Legend states that Ester established an early Jewish colony in Persia in the late 17th century. The tour will continue into the crypt, which also contains Hebrew inscriptions and the Ten Commandments.
Please, won't you help the New York Times fill some gaps in their budget by going on a trip that's both diplomatically tricky and ethically gray, due to the fact that it's run by an actual journalist?
(In all fairness, I would love to visit Iran, and I've known many people who've visited Iran, but paying another journalist to take me on a luxury tour tour of the country is slightly weird.)
[h/t The Weekly Standard]
[Image via Borna_Mirahmadian / Shutterstock.com]
— —
>> Follow Tina Nguyen (@Tina_Nguyen) on Twitter
Have a tip we should know? tips@mediaite.com