GOP Candidate Claims National Guard Made Her Miss Votes; Was Likely Castrating Pigs Instead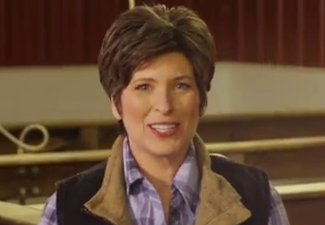 Republican Joni Ernst made a national name for herself when she ran this amazing ad, bragging that her experience castrating pigs made her the best candidate to be Iowa's next US senator. What apparently doesn't matter: her experience missing more than half the votes in the Iowa State Senate, and also the part where she lied about the reason she missed them.
When asked why she'd missed 117 out of 195 votes in the Iowa Senate's last session, Ernst told Laura Ingraham late last month that she'd been on duty in the National Guard during those missed votes, which should have been an impenetrable defense. "Those are times that I've been on orders … so that is one thing you won't hear them talking about, those that are attacking my voting record."
However, a recent review by the Iowa Gazette of her records found that she'd only missed 12 of those votes — or 10% of her overall missed votes — for official duty. Her truancy was worst in the past few months, where she missed 71 out of 95 roll call votes between Feb. 24 and March 5th. The rest of the time, she was probably castrating hogs.
A spokesman for Ernst told the Gazette that in her overall career in the Iowa State Senate, she has a "a better than 90 percent voting record" and that she's never claimed that National Guard duties were the main reason she's missed Senate votes. Just say you were chopping off a pig's testicles, senator. It's consistent with your record.
WOULD YOU RATHER:
a) Miss a vote to cut off a hog's balls
b) Miss a vote to serve your country
c) Cut off a hog's balls to serve your country
[The Gazette via TPM]
[Image via screencap]
—
>> Follow Tina Nguyen (@Tina_Nguyen) on Twitter
Have a tip we should know? tips@mediaite.com