GOP Congressman Announces He's Voting for Clinton: Trump's a 'National Embarrassment'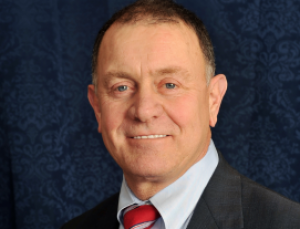 The #NeverTrump movement might be over in terms of stopping Donald Trump from becoming the Republican nominee, but on Tuesday, a GOP congressman announced he'll abandon ship in favor of Hillary Clinton for the general election — becoming the first elected official to do so in the process.
Richard Hanna, a three-term New York Republican representative, announced in a Syracuse Post Standard op-ed that he will cross party lines come November. While other Congressional figures have resisted or denounced Trump outright in the past, the outgoing Congressman is the first to announce he's completely rejecting the Republican nominee.
While Hanna noted that he has a lot of disagreements with the former Secretary of State, "she stands and has stood for causes bigger than herself for a lifetime," Hanna wrote. "Mrs. Clinton has promoted many of the issues I have been committed to over the years including expanding education and supporting women's health care."
As far as Trump goes, Hanna described the mogul as "the embodiment of at least a short list of the seven deadly sins," and that his lack of political understanding and attacks on various groups are disqualifying.
"It is not enough to simply denounce his comments," Hanna said. "He is unfit to serve our party and cannot lead this country."
Hanna's piece follows the announcement by Sally Bradshaw, a Republican aide for Jeb Bush, who announced this week that the attacks on Khizr Khan were the last straw for her support for Trump.
[Image via Wikimedia]
— —
>> Follow Ken Meyer (@KenMeyer91) on Twitter
Have a tip we should know? tips@mediaite.com