GOP Congressman Explains Love Of Hip-Hop, Specifically Public Enemy's 'Conservative' Message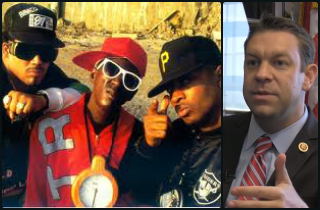 Along with his fellow Florida Republican in Sen. Marco Rubio, Rep. Trey Radel seems to consider himself a bit of a hip-hop scholar. In a recent interview with NowThisNews, the House freshman explained his love of the musical genre, specifically pointing to a Public Enemy song as an example of a "conservative" message that reminds him of the ongoing scandals in D.C.

Asked if there's a specific lyric or song that describes how he feels about the federal government's wrongdoings, Radel cited Public Enemy's classic "Fight the Power" because the song, "if you really get down to it, in many ways, really reflects the conservative message of having a heavy-handed federal government."
That seminal 1989 early hip-hop anthem was written by Public Enemy as a call-to-action for black Americans to stand up against inherently racist institutions and to resist the domination of white culture's "racist" icons like Elvis Presley and John Wayne. Radel is undoubtedly aware of Public Enemy's albums like Fear of a Black Planet and It Takes a Nation of Millions to Hold Us Back, which both contain lyrical elements similar to the views espoused by the Nation of Islam, a bugaboo of many conservative politicians.
Acknowledging that Public Enemy founder Chuck D likely holds a substantially different philosophy of government than a Republican congressman like himself, however, Radel clarified that he believes a lot of the societal problems hip-hop seeks to address can actually be traced to "heavy-handed" authority figures like law enforcement officials ("like the Department of Justice that we've seen right now with the AP") or big government itself.
Watch below, via NowThisNews:
— —
>> Follow Andrew Kirell (@AndrewKirell) on Twitter
Have a tip we should know? tips@mediaite.com