GOP Donor Who Gave $20,000 to GOP Rep. Ron DeSantis Calls Obama a 'Muslim N****r'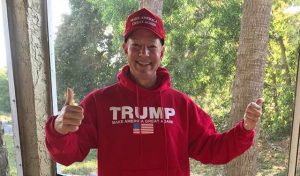 Steven Alembik, a Republican donor who has given $20,000 to GOP Rep. Ron DeSantis, referred to former President Barack Obama as a "MUSLIM N*GGER," according to a Politico report.
"FUCK THE MUSLIM NIGGER," tweeted Alembik in response to a post from the RNC that read, "Without a hint of irony, Obama smears President Trump's 63 million Republican voters as divisive & resentful."
He has since deleted the tweet and claimed that he is "absolutely not" racist, despite being a racist.
DeSantis, who is running as the Republican nominee for governor in Florida, distanced himself from the donor after the incident.
"We've said it before, we'll say it again: we adamantly denounce this sort of disgusting rhetoric," DeSantis flack Stephen Lawson said in response to the Politico piece.
As for the DeSantis campaign, his run against the Democratic nominee Andrew Gillum — an African-American — has become increasingly racially charged.
The day after the Florida gubernatorial primary election, DeSantis infamously told Florida voters not to "monkey this up" and elect Gillum, which many viewed as a racist remark about Gillum's race. The Republican lawmaker denies this characterization of his comment.
DeSantis was also a moderator of a massive far-right Facebook group in-which racist comments and conspiracy theories were promoted. He has since left the page.
Additionally, a white supremacist group from Idaho has attacked Gillum for his race, buying up robocalls that include a person impersonating the black candidate as he talks over jungle sounds. DeSantis has condemned these calls.
[image via Facebook]
Follow the author on Twitter (@calebecarma).
Have a tip we should know? tips@mediaite.com