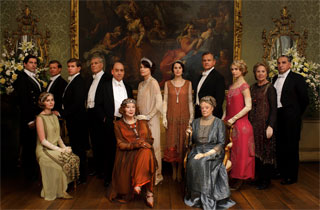 A puff piece about a GOP congressman's Downton Abbey-inspired office turned into a serious, balls-to-the-wall PR crisis, thanks to an overzealous communication director's attempts to kill the story.
The Washington Post's style reporter relayed the dramatic tale of how he stumbled upon the lavish office of Rep. Aaron Schock (R-IL), and the woman who offered to decorate it for free. Normally, offices in Congress are boring, beige places, with boring landscape paintings and equally boring candy bowls and potted plants, but not Schock's office.
"Bright red walls. A gold-colored wall sconce with black candles. A Federal-style bull's-eye mirror with an eagle perched on top. And this is just the Illinois Republican's outer office," Ben Terris wrote, adding that a helpful receptionist said that it was based off the red room in Downton Abbey. He also happened to meet Annie Brahler, the interior decorator who redid the entire office suite, who cheerfully brought him into the congressman's private office, "revealing another dramatic red room. This one with a drippy crystal chandelier, a table propped up by two eagles, a bust of Abraham Lincoln and massive arrangements of pheasant feathers."
Here is but a taste of his richly-appointed quarters:
Rep. Aaron Schock's office is a "Downton Abbey" knockoff. So…. http://t.co/f8xy4vWvPN pic.twitter.com/92cloZTHLw

— Chris Cillizza (@TheFix) February 3, 2015
Suddenly, he discovered that he was most unwelcome in the drawing room:
Then, my phone rang.

It was Schock's communications director, Benjamin Cole.

"Are you taking pictures of the office?" he asked. "Who told you you could do that? . . . Okay, stay where you are. You've created a bit of a crisis in the office."

A staff member then came and asked me to please delete the photos from my phone. So started a day of back-and-forths with a congressman's office about interior design.
According to the Post's writer, Schock's comms team was really, really insistent that he not write anything about the congressman's grand, Edwardian-inspired office, despite the fact that Brahler essentially spilled the gossip tea everywhere:
"You've got a member [of Congress] willing to talk to you about other things," Cole said on the phone. "Why sour it by rushing to write some gossipy piece?"

…"You see, the congressman hasn't even seen the office yet," Cole told me later. "Surely, it wouldn't be fair for you to write about his office until he has the chance to see it."
(Keep in mind that this is Aaron Schock, a man so press-shy that he posed on the cover of Men's Health with his abs prominently in display.)
Though the scandal seems rather silly and frivolous — eeeeeugh, Aaron Schock is a fancy man and doesn't want people seeing his fancy office, eeeeeeugh! — ThinkProgress notes that he could be in violation of congressional ethics laws that prohibit him from receiving free services. "There's been scandal after scandal of politicians accepting gifts and returning the favor," Stephen Spaulding, policy counsel for the non-partisan Common Cause, said about the scandal. "Here's an interior designer, I don't know if she has any business before Congress, but we expect our leaders to follow the rules and hold themselves to the highest standards."
[h/t The Washington Post]
[Image via ITV/PBS]
— —
>> Follow Tina Nguyen (@Tina_Nguyen) on Twitter
Have a tip we should know? tips@mediaite.com