GOP Sen. Portman: Obama Is A 'Very Effective Debater,' Will Be 'Formidable' Against Romney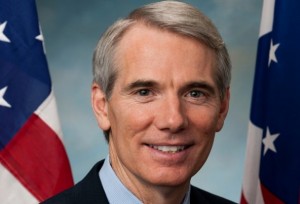 Ohio senator Rob Portman has some experience debating in the shoes of President Obama. In 2008, he played the role of Obama in mock debate preparation sessions with John McCain, and reprised that role this year to prepare Mitt Romney for the presidential debates. Portman admitted to POLITICO that not only is Obama a very skilled debater, but he has some advantage over Romney because the Republican nominee has not had a one-on-one debate with a Democrat in roughly ten years.
RELATED: Laura Ingraham: Univision Forum Showed Debates Will Put 'Obama In The Hot Seat Like Never Before'
Portman said that in much of the discussion previewing the three presidential debates next month, what has been "missing" is the understanding that Obama is an effective debater.
"He did a great job in 2008, during that campaign as a debater. He had some tough debates with Hillary Clinton and he performed well. So this notion that somehow Barack Obama as president hasn't had time to really get up to speed – he's up to speed everyday, because he deals with all these issues, federal issues everyday. Mitt Romney's a business guy and a former governor. He actually hasn't had a debate against a Democrat in over ten years I think, I guess it would be 2002 when he ran for governor. People say, 'Well he's been debating with the Republicans in the primaries.' Very different debates… I think Barack Obama will be formidable."
He acknowledged that Obama is a good politician who can effectively connect with people and "explain… the issue from his perspective."
—–
Follow Josh Feldman on Twitter: @feldmaniac
Have a tip we should know? [email protected]
Josh Feldman - Senior Editor