GOP Senate Candidate Tells Reporter 'Go F**k Yourself,' Apologizes, Then Retracts Apology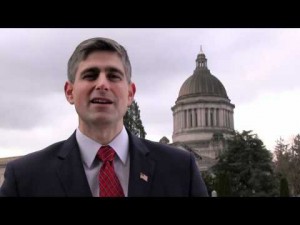 Rep. Todd Akin isn't the only Republican Senate candidate attracting attention to himself these past few days. On Tuesday, Michael Baumgartner — the GOP candidate in Washington's Senate race — apologized for apparently telling a reporter, via email, to "go fuck yourself." Later, he retracted the apology, saying that the reporter "had it coming."
Local journalist Josh Feit wrote on Publicola that Baumgartner sent him an email late Monday night after Feit had interviewed the candidate earlier the same day. The topic of the interview, Feit said, was Akin's remarks about "legitimate rape" and abortion. During the interview, Baumgartner deemed the comment "inexcusable and stupid and ignorant," but said "he wanted a truce in the culture wars and his campaign was about jobs and ending the war in Afghanistan."
Then, at 10:45 p.m., Feit received an email from the candidate, which included a photo of Baumgartner with Pat Feeks, a Navy SEAL who recently died in Afghanistan. The email read:
Josh, this is Pat Feeks, a Navy SEAL killed last week in Afghanistan. Take a good look and then go fuck yourself.
Baumgartner confirmed he sent the email. "It was sent from my personal e-mail. It was a personal comment to Josh," he said in an interview, according to the Seattle Times.
Later, his office issued the following apology:
Senator Michael Baumgartner made this statement today regarding Publicola's article that published a private e-mail between him and Publicola editor, Josh Feit:

"This was a follow-up e-mail to a previous conversation with a local blogger," Baumgartner said. "I apologize to Josh for my strong language."

"A cornerstone of my campaign thus far has been to address and end the war in Afghanistan. Every week, our best American men and women are killed. Since I announced my candidacy in October, 301 Americans have been killed."

"The problem is that many media outlets, including Publicola, do not want to talk about why these men and women continue to be killed. They don't want to discuss Maria Cantwell's record supporting the war in Afghanistan or a smarter foreign policy that can save thousands of lives in the future."
And yet the story wasn't over. On Tuesday afternoon, Baumgartner was rather unapologetic in his remarks to KIRO TV. Per their article:
"Let me just say, Josh had it coming in this email, and I don't apologize," Baumgartner told KIRO 7's Graham Johnson on Tuesday afternoon. "Look, it's a naughty word. It doesn't amount to a whole lot."
[…]
"It was a personal discussion," Baumgartner said of the email exchange. "I'm not going to go into details about what was said, but the guy had it coming."
[…]
"The issue here is not whether a bad word was said or not," he said. "Maybe it angers people, maybe it doesn't. Trust me, the guy had it coming. The issue here is the ongoing war in Afghanistan and the complete lack of leadership of bringing that war to a close."
So he doesn't actually apologize because Feit "had it coming" (cue Chicago soundtrack). For his part, Feit disputes Baumgartner's mention of there being any "personal discussion."
Baumgartner is mischaracterizing his email to me, making it sound as if we were engaged in a larger private conversation. That is not the case. I had an on-the-record interview with him on Monday afternoon about Rep. Akin. During the interview, Baumgartner talked about his own emphasis on Afghanistan. I noted that in my article.
Oof.
(H/T Seattle Times)
Have a tip we should know? tips@mediaite.com