Dan Savage And National Organization for Marriage's Brian Brown Sit Down For Fascinating Gay Marriage Debate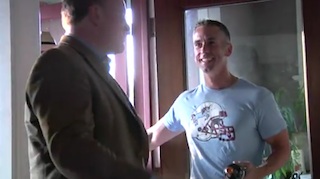 In the year 2012, intelligent, respectful people are still having rational debates about same sex marriage. Occasionally, the anti-gay marriage side joins in as well (BA-DUM DUM). One of the most outspoken voices on the side of LGBT rights over the past few years has, of course, been columnist Dan Savage. Last week, he sat down for an hour-long debate with one of the most outspoken voices on the side of not giving LGBT people rights, National Organization for Marriage President Brian Brown, over dinner. The resulting video is a fairly fascinating watch.
The origins of the meet up occurred a few months ago when Savage gave a talk at a California high school where he pointed out that modern Christians had learned to ignore plenty of "bullshit" in the Bible, so they should be able to do the same for the book's statements on sexuality. Videos of these comments caused a great deal of controversy amongst conservative types who somehow acted like this very same argument hadn't been made daily since the very beginning of the gay rights movement. One of those offended was Brown who wrote in a blog post that Savage should try and say those things to his face (because, apparently, that's more frightening than saying it to 3,000 Christian students at a speaking engagement). Savage responded that they should do it over dinner and, a few months later, here they are talking it out in advocate's dining room.
The video begins, after pleasantries, with opening statements from both parties. Savage defended his Bible statements, pointing out that all Christians have accepted that the Bible got, say, slavery wrong and that everyone from Mark Twain to Pat Robertson have said similar things about the Holy Book's errors. Brown responded by trying his best to hide the gnawing thought in the back of his head constantly reminding him that, in a few years, his own grandchildren will be ashamed of their family's Internet history.
Ok…I'm sorry, I'm sorry. Obviously, I'm a bit biased in Savage's favor since I'm against ghettoizing a minority purely because my parents read a super old book to me when I was little.
Wait…wait…sorry. Did it again. Apparently there are readers of this site who still, y'know, think…things…so I'm going to try to just get through this. What Brown did do in his opening statement was join Family Research Council President Tony Perkins (do you think the two of them ever hang out and have like little organization president barbecues?) in blaming the Southern Poverty Law Center for helping cause the FRC office shooting* as well as attack Savage's critique of Mark Regnerus' gay parenting study.
*Brown actually preceded Perkins' comments since this video was taped on the 15th.
Anyway, then begins the debate proper and it really is interesting to watch. I'd write more about but I'd risk, like Savage, ticking off some people and, unlike him, I have no intention of inviting bigots over for dinner.
Watch the video below:
Have a tip we should know? [email protected]