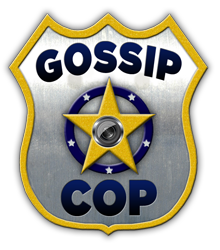 Gossip Cop, the entertainment blog — and Mediaite cousin site — which polices the celebrity rumor mill, has joined forces with OK! Magazine, teaming up on a weekly full page print feature entitled "Real or Rumor."
OK!, the celeb weekly magazine will partner with the Michael Lewittes-run website to expose the untruths that run rampant in the gossip industry, beginning in the December 7th issue, available now.
"We're thrilled about this deal with OK!" said GossipCop.com's Top Cop and co-founder Lewittes in a press release announcing the pairing. "This is another important step as we continue to build the Gossipcop brand on the web and beyond."
However, Lewittes was also quick to point out to Mediaite that OK! would not be exempt from getting busted for "bad dish," as the website's tag line warns. "To OK!'s credit, when they first approached us, they mentioned right away that any deal would not prevent us from correcting any of their mistakes as well," said Lewittes.
Check out the full release below:
GOSSIPCOP.COM AND OK! MAGAZINE CREATE NEW CO-BRANDED CONTENT

GossipCop.com, the new website policing the gossip industry, has joined forces with OK! to produce weekly, co-branded content in the magazine.

The full-page feature, titled "Real or Rumor," separates fact from fiction in stories reported in magazines, newspapers, blogs and on TV.  It will carry the same look and feel as GossipCop.com. The first "Real or Rumor" page debuted in the December 7 issue of OK! and debunked inaccurate stories about Justin Timberlake, Jennifer Aniston, Nicole Richie and Brad Pitt.

"We're thrilled about this opportunity with OK!," said GossipCop.com's Top Cop and co-founder Michael Lewittes. "They showed an impressive willingness to provide us with editorial autonomy over the page, which was crucial. This is another major step in continuing to build the Gossip Cop brand on the web and beyond."

"OK! is the first celebrity weekly to provide a branded platform for the best blogs from around the world," said Mark Pasetsky, Managing Editor, OK! Magazine. "Today's announcement with Gossip Cop is a perfect example of this unique strategy."

Since launching just four months ago, there have been more than 200,000 mentions in the media of GossipCop.com, including segments on The Today Show, Good Morning America, and The View and articles in The New York Times, People, Us Weekly, and, of course, OK!.

OK! Magazine reaches over six million readers per week in the U.S. and 30 million worldwide via 22 total editions.  Advertising pages are up 18% year-to-date, making the magazine a top-3 performer out of 245+ magazines tracked by PIB.

PRESS CONTACTS For OK! Magazine:

Brian Strong

The Strong Group, LLC

212.274.9744 OR 646.232.0651

PRESS CONTACTS for Gossip Cop:


Ruthie Friedlander

GossipCop.com

646.727.4305
Have a tip we should know? [email protected]