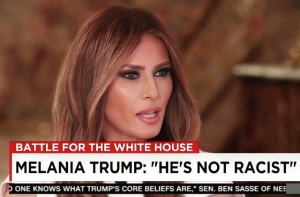 GQ published an eye-opening profile of the GOP frontrunner's third and current wife, the former model Melania Trump, whose actual political views, she avers, are "between me and my husband."
Julia Ioffe writes:
While Donald often says that Melania would make a stellar First Lady, the former model offers little clue about what a move to the White House would mean for her. She once said she would be "traditional," like Jackie Kennedy, and on the question of what causes she might support, she has noted she is already involved in "many, many charities." She elaborated: "Many different charities involving children, involving many different diseases."

[…] To Melania's traditional way of thinking, Trump's aspirations for the White House have little to do with her. The same can be said for his more controversial positions, like his general disdain for immigrants, even though his wife became an American only in 2006. "I chose not to go into politics and policy," she tells me. "Those policies are my husband's job." She has opinions, she assures me, and shares them with Trump. "Nobody knows and nobody will ever know," she says of the advice she provides him. "Because that's between me and my husband."
Ioffe reports from Trump's native Slovenia, uncovering stories of her family and speaking to old high school friends, one of whom says: ""She's smart for the things she's interested in, like jewelry. She's not stupid, she's not a bimbo, but she's not especially clever."
Read the complete profile at GQ.
Have a tip we should know? tips@mediaite.com