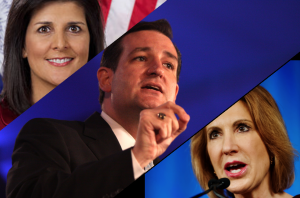 After another drubbing last night in five state primaries, the Ted Cruz campaign is hitting the little red panic button, and this week announced a partnership of sorts with the Kasich camp to block a Trump nomination. While the Cruz and Kasich campaigns are riding in the caboose of the Trump Train, talk of potential Vice Presidential candidates has already emerged. In fact, this morning Cruz made a pre-announcement that today at 4 p.m. ET he would making another announcement, and speculation is swirling about what the Texas Senator will reveal.
Typically, we see candidates hold these special announcement gatherings on the days after big state primary losses as a means to announce that a campaign is formally being suspended. You could easily mistake this announcement for one of those if you looked simply at the statistics: like a skyscraper with his own name on it, Donald Trump's 854 delegates tower over Cruz's 562, and his poor performance in all five of last night's states primaries do not indicate that there is a path forward on solid ground.
But everyone knows Cruz isn't dropping out of the race today; he's still out on the stump, eagerly shaking hands and campaigning hard, taking his message to Indiana where voters will head to the polls on Tuesday. And based on their weirdly-phrased arrangement that may or not actually be happening, it seems as if both the Cruz and John Kasich camps will continue their efforts into Oregon and West Virginia as well.
So that brings us to the speculation that Cruz will name his VP choice today, a play that many will see as the ultimate move of desperation to try and steal away momentum from the runaway frontrunner. While the one-man Trump wrecking ball has proven to be a populist hero for the 2016 cycle, it is Cruz who holds the influence within the Republican party.
Consider this: Ted Cruz has 42 GOP party endorsements from Senators, Congressmen, and state Governors. John Kasich has 13 endorsements. And frontrunner Donald Trump, who as of this morning has 3.2 million more popular votes than Cruz, sits on a paltry and truly inconsequential 12 endorsements.
One option for Cruz that has been widely rumored would be a partnership with former candidate Carly Fiorina, who has supported the Cruz campaign since March 9th. Cruz has been highly complimentary of Fiorina on the campaign trail, and yesterday the former Hewlett Packard CEO cryptically Tweeted with the header, "Why I'll continue to serve:"
Why I'll continue to serve: pic.twitter.com/5Rj2hMW7Hx

— Carly Fiorina (@CarlyFiorina) April 26, 2016
Fiorina has never held political office, after one stalled 2010 Senate campaign against Barbara Boxer in California. Many would consider Fiorina to be a smart choice; her campaign chops were on full display in the fall, and her impressive debate performances were enough to raise her notoriety and become a more seriously-considered contender for the nomination. A Cruz-Fiorina ticket would truly wear the 'outsider' label, likely bashing the Beltway politics-as-usual process and continuing their best to derail the frontrunner.
Donald Trump has already commented on the possibility of a Fiorina announcement, saying this morning, "[Fiorina] went up, then she dropped like a rock and never resonated with the people. So, I mean, Carly is not going to do the trick."
If Fiorina is not the choice for the Cruz campaign, the attention then shifts to his pool of party endorsements; several big names in conservative politics have aligned themselves with the Cruz camp, including South Carolina Governor Nikki Haley and Utah Governor Gary Herbert. Haley called Cruz "solid and strong" after her initial candidate of choice — Florida Senator Marco Rubio — ended his own bid for the White House in March.
Speaking of Rubio… the popular former candidate had locked down 67 party endorsements himself, only a percentage of which have declared allegiances to a new candidate (mostly to Cruz). Rubio has been largely quiet on social media in the weeks since suspending his campaign, and many have opined that the young Florida Senator would make for an excellent Vice Presidential pick.
Other notable supporters of Cruz's include Congressman Louie Gohmert (R-Texas), Scott Walker (R-WI) and, hilariously and begrudgingly, Lindsey Graham from South Carolina. Another one of Cruz's supporters is Mia Love, the first African-American female elected to Congress in the state of Utah.
If Ted Cruz does name a potential running mate this afternoon prior to a nomination, it wouldn't be the first time; Ronald Reagan famously tried the same maneuver in 1976 ahead of the convention that proved unsuccessful. Reagan, looking to challenge sitting President Gerald Ford for his own party's nomination that year, put up a staunch fight and named Pennsylvania Republican Richard S. Schweiker as his potential VP. And just like Cruz in 2016, the play was a move of desperation. As David Marston, former counsel to Schweiker, once said of the Reagan announcement, "[L]et's face it. Reagan was behind Ford in delegates and needed to throw a 'Hail Mary' pass to keep any chance he had of nomination alive."
Indeed, seeing Carly Fiorina take the stage in Indiana this afternoon would certainly make for a 'Hail Mary' to stop the Trump camp from reaching the necessary 1,237 delegates. While the Texas Senator licks his wounds from another primary night beat-down, a strong declaration of a Cruz/fill-in-candidate-of-choice-here ticket may just be the move of exigency that the Republican party needs to avoid an unimaginable fate.
—
J.D. Durkin (@jiveDurkey) is a columnist at Mediaite
[images via Wikipedia Commons]
This is an opinion piece. The views expressed in this article are those of just the author.