Gridlock! President Obama Holding Three Traffic-Snarling Fundraisers On Same Night As Tree Lighting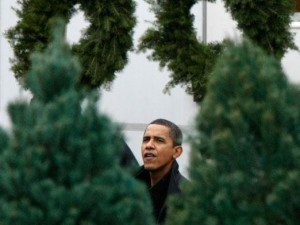 Anyone who has ever tried to attend the Rockefeller Center Christmas Tree Lighting in New York City will give you the same advice: don't go. You won't get close enough to see the tree, you're barricaded in with groups of people pushing to get closer, it's nearly impossible to navigate your way through the crowds, and getting there is a hassle, as traffic is snarled and roads are blocked off. So the fact that President Obama has decided to visit New York City on the same night as the Tree Lighting, to attend three fundraisers, has millions of residents angry as they hopelessly stare down a double-dose of unimaginable gridlock.
Donald Trump hammered President Obama in an appearance Tuesday night on the Fox Business Network for not respecting the troubles this will cause most New Yorkers during rush hour. He didn't mince words. "It's very inconsiderate of the President to come into New York and have a fundraiser during the Christmas tree lighting," Trump told David Asman on Power & Money. "Thousands and thousands of people come to see the lighting; they're not going to be able to move. There's going to be total gridlock, the streets are going to be closed because the President's in town. I think it's a very nasty move by the President."
A New York Post editorial asked why the President had to pick tonight, of all nights, to hold three fundraisers that could have been scheduled for another day (although WNYC claims that only the first two events are fundraisers; the third is a "holiday reception"). The paper warned that entire city blocks will turn into parking lots:
"With just a little less arrogance, and a little more consideration, on the part of the president and his political team, the whole mess could have been avoided."
There's no real way to describe just how bad traffic will be. Think of when a four-lane highway is shut down to just one lane, with an accident on the other side of the road that everyone slows down to look at, and every other car suddenly runs out of gas and stops. And then two miles down, someone decided to build a large brick wall across the entire highway. For at least four hours, that's what traffic is going to be like in New York City tonight, because of the double whammy. "Gridlock" Sam Schwartz, a traffic expert and former New York traffic commissioner, tweeted Wednesday morning that it would be the, "gridlock alert day of the decade."
"Anybody that travels into midtown Manhattan with a car [Wednesday] should have their head examined," Schwartz told amny's Marc Beja. "You will see major gridlock like you haven't seen in a long time."
Is all the traffic going to be Obama's fault? No. But he could have taken some steps to avoid the 1-2 punch of his presence closing streets while the tree lighting blocks even more. New Yorkers are certainly angry with him — and will likely get angrier as horns honk and intersections are blocked en masse Wednesday evening — but the President probably won't have too much to worry about in terms of turning off voters. In 2008, Obama won Manhattan's popular vote over John McCain by a whopping 77% — 88.2% to 11.3%. So unless he does something incredibly insane — like direct his advance team to chop down the tree and build a statue of him in Rockefeller Center instead, don't expect the anger to linger for much longer than a few days.
Have a tip we should know? tips@mediaite.com