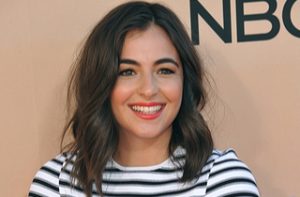 Word to the wise: Don't try to body shame someone who is used to taking down actual zombies/walkers. She's going to She's going to fire back at you.
Before Alanna Masterson went back to work to film the most recent season of Walking Dead, she had a baby. Since the show has been back, people have been commenting on her weight. Masterson took to Instagram to call out her body shamers, and let them know that it's not okay.
"Dear Instagram trolls, body shamers, and the men and woman who think it's ok to comment on my weight: I hope that you don't have children. And if you do, I hope you teach them about kindness and acceptance," the note begins.
"I hope one day YOU learn what it takes to be a parent. A kind, selfless parent. A working parent. A parent that puts themselves in someone else's shoes," she continued.
She described the difficulty of "nursing a baby for a year…in the dead of summer in Georgia," and said, "just know that this little girl got the best start to life. I wouldn't have changed it for a second. I would've gladly continued to eat enough calories to produce milk for her little bones to grow."
"Also," she said, "grow the f*ck up. Your mother should be ashamed for raising such a judgmental bully."
She ended the note saying, "P.S. I would LOVE to see any man or woman give birth to a baby, nurse the baby, and then work 17 hour days and NAIL their own stunts. P.S.S. Be kind to each other. We need it now more than ever."
[featured image via Featureflash Photo Agency / Shutterstock.com]
Have a tip we should know? tips@mediaite.com