Guitarist Tom Morello Trashes Ryan: 'Embodiment Of The Machine Our Music Rages Against'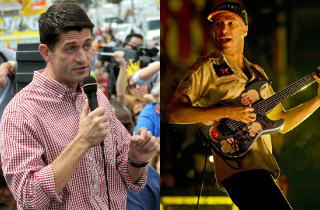 In a Rolling Stone op-ed Thursday afternoon, Rage Against the Machine's famed guitarist Tom Morello responded directly to Republican VP nominee Paul Ryan who has claimed that Rage is one of his favorite bands.
"Paul Ryan's love of Rage Against the Machine is amusing," Morello began, "because he is the embodiment of the machine that our music has been raging against for two decades."
Rage's music is famously left-wing in its messaging. The music video for their 2000 hit "Testify" was directed by Michael Moore and featured the band performing at the steps of the New York Stock Exchange, resulting in a police altercation and the shutting of the NYSE's doors.
The band's lyrics, which Ryan reportedly tunes out, often contain aggressive criticisms of capitalism, corporations, warfare, and consumerism. "Ryan claims that he likes Rage's sound, but not the lyrics," Morello said. "Well, I don't care for Paul Ryan's sound or his lyrics. He can like whatever bands he wants, but his guiding vision of shifting revenue more radically to the one percent is antithetical to the message of Rage."
"I clearly see that Ryan has a whole lotta 'rage' in him," Morello mocked the congressman, "A rage against women, a rage against immigrants, a rage against workers, a rage against gays, a rage against the poor, a rage against the environment. Basically the only thing he's not raging against is the privileged elite he's groveling in front of for campaign contributions."
"My hope is that maybe Paul Ryan is a mole," the guitarist concludes. "Maybe Rage did plant some sensible ideas in this extreme fringe right wing nut job. Maybe if elected, he'll pardon Leonard Peltier. Maybe he'll throw U.S. military support behind the Zapatistas. Maybe he'll fill Guantanamo Bay with the corporate criminals that are funding his campaign – and then torture them with Rage music 24/7. That's one possibility. But I'm not betting on it."
[h/t Rolling Stone]
— —
>> Follow Andrew Kirell (@AndrewKirell) on Twitter
Have a tip we should know? tips@mediaite.com