Twitter Apologizes For Encouraging NBC To File Complaint Against British Journalist's Account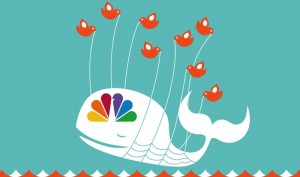 Twitter has now publicly apologized for erring in its decision to take down the account of Guy Adams, a journalist for The Independent, after he posted the corporate e-mail address of an NBC executive and the network filed a complaint with the social networking site. Twitter acknowledged the accuracy of earlier reports that Twitter had alerted NBC to the offending tweet and even "encouraged them" to have the violation reported.
RELATED: British Journalist On CNN: Twitter Took Down My Account Because Of 'Commercial Relationship' With NBC
The blog post earlier today, written by Twitter's general counsel Alex Macgillivray, first addresses Twitter's general policy about "Trust and Safety" in some detail, explaining that the rule about not posting personal information is meant to protect others from being "harass[ed] or intimidate[d]." Twitter's Trust and Safety Team does not monitor tweets, actively looking for violations; it only responds to filed complaints.
The post finally acknowledges that Twitter violated its own policy when its employees alerted NBC to the tweets, and apologizes for the conduct of those involved.
[W]e want to apologize for the part of this story that we did mess up. The team working closely with NBC around our Olympics partnership did proactively identify a Tweet that was in violation of the Twitter Rules and encouraged them to file a support ticket with our Trust and Safety team to report the violation, as has now been reported publicly. Our Trust and Safety team did not know that part of the story and acted on the report as they would any other.

As I stated earlier, we do not proactively report or remove content on behalf of other users no matter who they are. This behavior is not acceptable and undermines the trust our users have in us. We should not and cannot be in the business of proactively monitoring and flagging content, no matter who the user is — whether a business partner, celebrity or friend. As of earlier today, the account has been unsuspended, and we will actively work to ensure this does not happen again.
On CNN earlier today, Adams said it was possible Twitter complied with NBC's complaint because of their "commercial partnership" during the Olympics. And if Twitter tipped NBC off to Adams' tweet in the first place, perhaps his instincts were correct.
—–
Follow Josh Feldman on Twitter: @feldmaniac
Have a tip we should know? tips@mediaite.com
Josh Feldman - Senior Editor