He 'Can't Randomly Tweet': Newt Gingrich Says Trump Shouldn't Have Sent Voter Fraud Tweet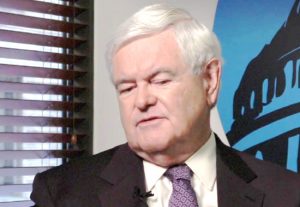 In an interview with USA Today's Capital Download, former Speaker of the House and Trump transition team vice-chairman Newt Gingrich tossed some criticism at the President-elect over his tweeting habits.
Speaking to reporter Susan Page, Gingrich stated that the worst misstep Donald Trump has made since shockingly winning the election is his recent tweet claiming that he would have won the national popular vote if millions of people hadn't voted illegally.
"The President of the United States can't randomly tweet without having somebody check it out," Gingrich noted. "It makes you wonder about whatever else he's doing. It undermines much more than a single tweet."
The one-time GOP presidential candidate also told Page that he hadn't seen any proof that there had been millions of illegal votes cast. PolitiFact has rated this claim by Trump as Pants on Fire.
While Gingrich feels Trump should have someone check over his tweets or editorialize them for him, he thinks that the incoming POTUS should still utilize the social media platform.
"He should tweet, but he ought to have an editorial board in-between the first draft and sending it," he said "But he shouldn't give it up, and he shouldn't give up being Donald Trump."
Gingrich also weighed in on the possibility of Mitt Romney being named Secretary of State, echoing the sentiments of Trump campaign manager Kellyanne Conway by saying that he thinks it is "outrageous" because "Romney said vile and vicious things."
Watch the interview above, via USA Today.
[image via screengrab]
–
Follow Justin Baragona on Twitter: @justinbaragona
Have a tip we should know? tips@mediaite.com