Here Are the 10 Zaniest Moments from Trump's Bonkers 90 Minute White House Pool Spray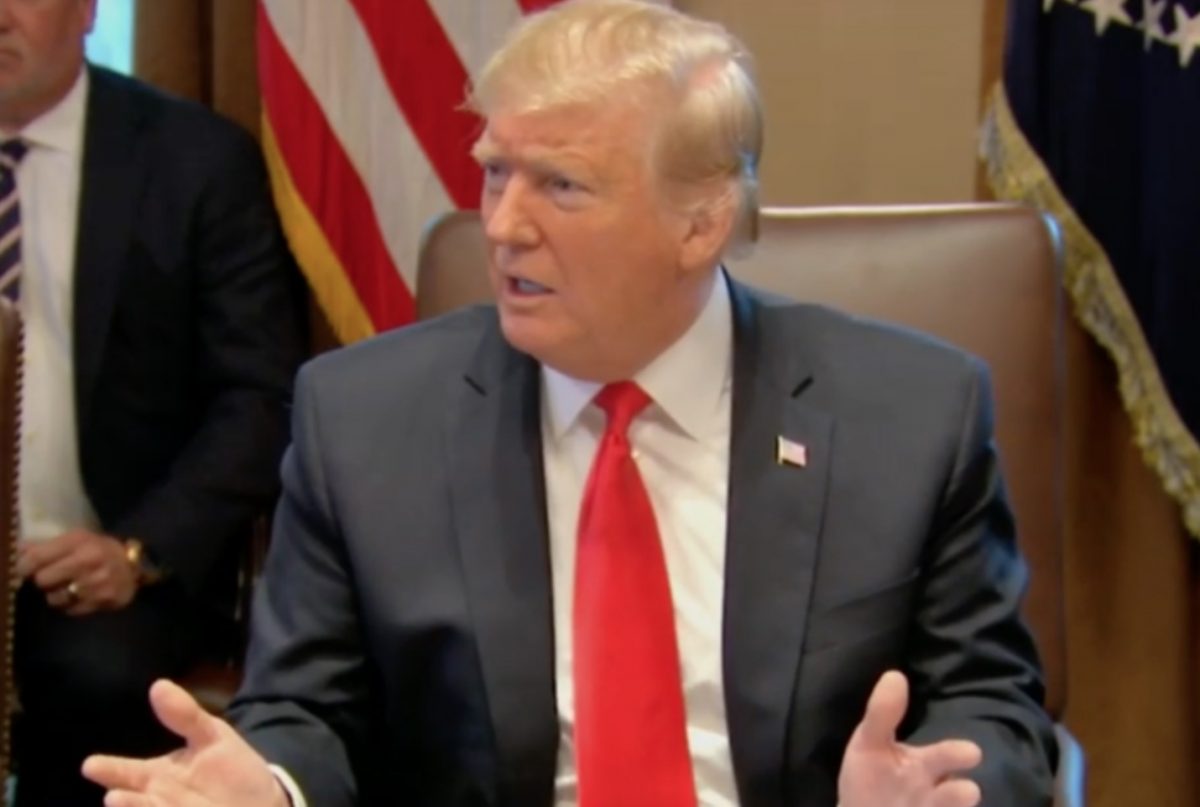 President Donald Trump held a 90 minute press spray with reporters at the White House on Wednesday…and it was a doozy.
The president ended up rambling on and on as he spoke about a "glitch" in the stock market, ripped outgoing Secretary of Defense James Mattis, talked up his border wall again, and a host of other subjects.
Seriously, there were a plethora of notable moments that came up throughout the presser, but we've narrowed it down to a shorthand list of the 10 craziest tidbits that just came from the president.
Enjoy!
1. Trump on Not Being Popular in Europe
Trump shrugged off his unpopularity in Europe by saying he "could be the most popular person" and "run for any office if I wanted to." He also said his unpopularity is a good thing because he wouldn't be doing his job as president if Europe had a favorable opinion of him.
"I'm not elected by Europeans, I'm elected by Americans — by American taxpayers," Trump said of European polls showing decreasing approval ratings for his administration.

"My relationship, I will tell you, with the leaders of Europe is very good" pic.twitter.com/EZjhStpnXm

— POLITICO (@politico) January 2, 2019
2. The Russians 'Were Right' to Invade Afghanistan
Trump seemed to endorse how the Soviet Union invaded Afghanistan in 1979 as he talked about the war on terror in the Middle East. He said the Soviet Union was "right to be there," saying the Soviet Union became Russia when they went bankrupt after the endeavor, and suggesting they should be there again.
Trump: "Russia used to be the Soviet Union. Afghanistan made it Russia because they went bankrupt fighting in Afghanistan. Russia."

Trump then goes on to endorse the Soviet invasion of Afghanistan. Via Fox. pic.twitter.com/oE0fuDLXyz

— Kyle Griffin (@kylegriffin1) January 2, 2019
Fun fact: the invasion was not about terrorism, for more, learn about it here.
3. Trump's Meeting with Good-Looking Generals
This one speaks for itself.
Trump says he had a meeting about Iran and the Middle East with lots of good-looking generals: "Like from a movie. Better looking than Tom Cruise, and stronger."

— Daniel Dale (@ddale8) January 2, 2019
4. "I Think I Would Have Been a Good General"
See Number 3.
Following a bizarre rant about the Soviet Union, Trump says this about Afghanistan: "Why isn't Russia there? Why isn't India there? Why isn't Pakistan there? Why are we there? We're 6,000 miles away? But I don't mind… I think I would have been a good general." pic.twitter.com/bQ36x1RSZH

— Aaron Rupar (@atrupar) January 2, 2019
5. No Timeline on Syria Withdrawal
Trump proclaimed that Syria is "lost" and there's nothing there for America but "sand and death," but he wouldn't elaborate on when exactly U.S. forces will be pulled out of their ground operations in the region.
On US troop withdrawal from #Syria, Trump says "oh we're withdrawing" without providing a timeline.

— Hala Gorani (@HalaGorani) January 2, 2019
Trump on Withdrawal/No Withdrawal from Syria:

•Dec 19: US Leaves in 30 days; ISIS Defeated
•Dec 22: ISIS largely defeated
•Dec 23: Withdrawal will be slow
•Dec 26: Let's get out of Syria
•Dec 31: No Rush
•Jan 2: Over a period of time… https://t.co/KrhLWtWBEc

— Joyce Karam (@Joyce_Karam) January 2, 2019
6. "The Public Means the Enemy"
Trump bashed the inspector general for conducting public oversight reports on how the U.S. conducts itself while at war.
"We're fighting wars & they're doing reports & releasing it to the public" per @POTUS "And the public means the enemy. The enemy reads those reports. They study every line of it"

"Those reports should be private reports…and be locked up"

— Jeff Seldin (@jseldin) January 2, 2019
Trump says DOD inspector general reports — aimed at assuring accountability in the actions of government officials as they spend taxpayers' money — should be kept "private."

"The public means the enemy," he says.

— Steven Portnoy (@stevenportnoy) January 2, 2019
7. Trump's Christmas Lonesome
At one point, Trump talked about how he had to ditch his holiday plans at Mar-a-Lago in order to stay at the White House and monitor the government shutdown. He called it a "lonely" experience with no one to interact with, even the Secret Service.
Trump says he was all alone in his "big house" over the holidays — "except for all of the guys out on the lawn with machine guns." He says that he's never seen so many machine guns, and they didn't even wave at him. He adds, "All alone with the machine-gunners."

— Daniel Dale (@ddale8) January 2, 2019
TRUMP on his lonely holidays at the White House: "I was here on Christmas evening, I was all by myself in the White House. That's a big, big house. Except for all the guys out on the lawn with machine guns… I was hoping that maybe somebody would come back and negotiate." pic.twitter.com/cHDlHgbyMi

— Aaron Rupar (@atrupar) January 2, 2019
8. The Vatican
To make his case on the border wall, Trump dug up his old talking point that walls work for places like the Vatican City.
"They say the wall is immoral, you better do something about the Vatican, because" the Vatican has walls, POTUS says.

— Maggie Haberman (@maggieNYT) January 2, 2019
Trump says if a wall is immoral, then you have to do something about the Vatican because it has a big wall.

— Jeff Mason (@jeffmason1) January 2, 2019
9. If DACA Found Constitutional, Then I Have "Tremendous Power"
Trump said that if the Supreme Court rules DACA to be constitutional from when it was instituted by Barack Obama, that will really mean something for his own executive powers.
TRUMP says that if Obama's DACA decision is ruled legal by SCOTUS…"If he was right, then I've been given tremendous power. Can you imagine me having that power? Wouldn't that be scary?"

— Saagar Enjeti (@esaagar) January 2, 2019
All joking aside. He just said the most dangerous thing just now:

" if @obama is allowed to do what he did on DACA then I am allowed to do whatever I want to do on things that probably a president doesn't have the right to do"

Now that is scary Sh*t. pic.twitter.com/ab7d8iw28q

— ALT- Immigration ? (@ALT_uscis) January 2, 2019
10. "I think the People of the Country Think I'm Right"
Trump's position on the continuation of the government shutdown. That is all.
"I think the people of the country think I'm right," Trump says.

— Maggie Haberman (@maggieNYT) January 2, 2019
[Image via screengrab]
— —
>> Follow Ken Meyer (@KenMeyer91) on Twitter
Have a tip we should know? tips@mediaite.com